In this month's earnings call, Priceline CEO Darren Huston let investors know Priceline is actively making a strong push into vacation rentals in the coming months.
"In the last 12 months, about 50 million room nights for vacation rental properties were booked on Booking.com and Villas.com, up 39% year-over-year," said Huston. "This quarter, we began experimenting with self-onboarding of individually owned vacation rental properties, subject of course to a set of quality checks on our side and the ability of the property to be instantly bookable. We already have an encouraging pipeline of vacation rental properties to activate via this channel. We're hopeful this functionality will help us scale our property acquisition even further."
Priceline grew its vacation rental inventory on Booking.com and Villas.com from 206,000 homes to 353,000 homes in the last year.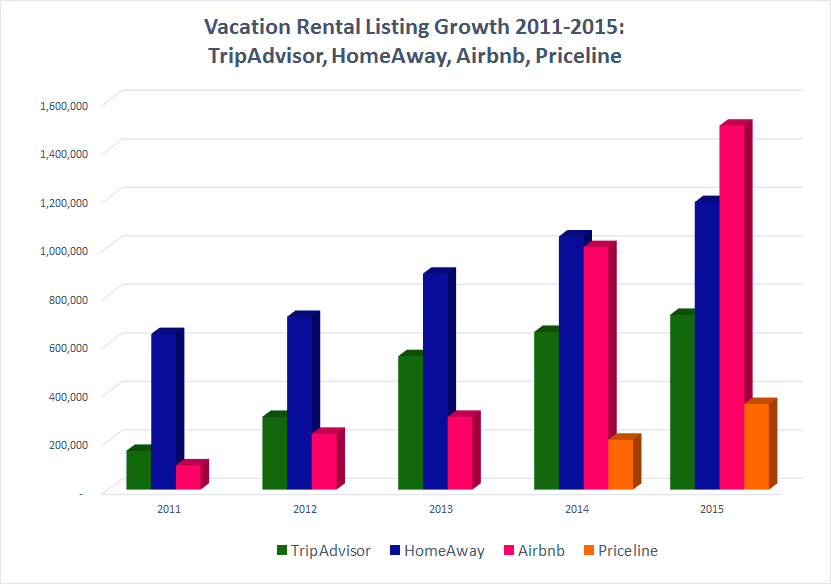 When asked about their strategy for vacation rentals and how their partnership with HomeAway fits into that, Huston said:
We're building it out in an instantly bookable verifiable way, which is very different than what say a HomeAway or an Airbnb is doing. We've also focused a lot on making sure the customer experience didn't have all the friction. If you can think of booking a vacation home and having to put down a deposit and having multiple email exchanges and not really knowing you've got the property, not really having the trust. We're doing it in much more of a kind of a pure ecommerce way, just trying to create it ultimately like booking a hotel.
And through that strategy, we've had to obviously take a lot of friction out of the industry and change the way that players think about that. And it's a lot of work, because for a vacation rental owner, you've got to maintain a digital calendar. You can't overbook people. When you say the place is available at a certain price, it has to sell at that price. But slowly we're seeing the ice start to crack a little bit, and starting to see real momentum. And this is great news for vacation rental owners, because this market has a lot of demand.
And a lot of people really think of vacation rentals as an upgrade. Like if you've got a family or your group and you're say going to Barcelona, instead of getting like four hotel rooms, you can get a vacation home on the beach, and you can make your own meals instead of going out to restaurants every night. So this is a very important addition to our business, but there's a lot more work to do. We do have some cooperation with HomeAway, but it's not near to the extent that maybe some of our competitors, and we're still talking there. We have a fairly high bar. We don't do on-request bookings.
And for us, it has to be truly instant. It can't be, okay, I'll let you know in 24 hours. That doesn't count as instant. And that's been part of the issues just keeping a very high bar and keeping our product very pure so that it fits with our traditional booker base. And so far so good, and I – and we're only going to do more of it. It wasn't really a jump into a segment, it was more of an evolution down the accommodation pyramid into the sort of the bottom of the pyramid. There's literally millions and millions of single owner property around the world, both in cities, on beaches, at ski resorts, et cetera. So that's the story there.
Huston was also asked about Priceline's marketing to vacation rental customers and if their increased push into vacation rentals was expected to cannibalize their hotel business.
Huston said:
In terms of the vacation rentals incremental or not, our general belief is, first of all, it's one customer. And either a customer is just a consumer or they're a business person and a consumer. And they take a number of trips every year, and every trip has a different rationale. And if somebody is a hotel booker on three of their trips, they may be on a trip with their family and become a vacation rental booker. We want to be able to provide all of those instances and all of those scenarios through Booking.com, so they become comfortable with that, rather than in the past, they feel if I need a hotel, I go to booking, and if I need a vacation rental, I go to company X, Y or Z.
The markets have traditionally been very different because the nature of the markets were very different. But more and more over time, and I think we're partly shaping that, and I believe that's ultimately going to be the outcome, the markets get a little bit mixed because a person says, hey, I'm going to Barcelona or I'm going to Rio de Janeiro and I need to find a place to stay. It's a very common question asked, where am I going to stay. And relative to that scenario, we want to provide them an option.
And by having more optionality in that, you can drive incrementality because the person may not find quite the right thing on a site that has a more narrow set of options. But on a broad set of options, maybe they have a certain price range and a certain thing they're looking for we'll be able to satisfy that. Or in a market like San Francisco or New York, if ADRs in hotels are really high, maybe a business person ends up in an apartment. Or if you've got a big event on like the World Cup or the Olympics where everything gets sold out, having all of this incremental supply offers more beds that people can sleep in.
So I think about it if today the market is very different between the vacation rental buyer and a hotel buyer, over time that'll only coalesce to become a more similar market, because all it is human beings looking for a place to stay. And I think that's generally the case that we're seeing on our site.
In contrast, competitor TripAdvisor's CEO said in their earnings call they felt like attractions were a more lucrative opportunity than the hot vacation rentals sector, "Our three- to five-year growth initiative is to further improve the user experience by helping more consumers around the globe find and book attractions, restaurants and vacation rentals and to reinforce our leadership position in these categories. Perhaps, our biggest opportunity to do this is in attractions."
Priceline's increased focus on vacation rentals is important to Vacation Rental Managers for the following reasons:
Priceline's sites need inventory available for instantly verifiable bookings which is more easily offered by professional property managers who already have real-time booking technology
This push into vacation rentals makes HomeAway a more attractive acquisition target for Priceline in that HomeAway now has levers in place through HomeAway Software and through their "Book it Now" functionality to make instant bookings a real possibility.
Priceline's Booking.com and Villas.com introduces to vacation rental suppliers a new market opportunity with their enormous reach for guests who are not as familiar or comfortable with booking on owner-driven sites like VRBO.com or Airbnb.com.
By Amy Hinote

<!-comments-button-->