Love them or hate them, third party distribution channels have fundamentally changed the way consumers shop for vacation rentals and the way property managers find new guests. When HomeAway purchased VRBO.com in 2006, the idea of paying a third party to market homes to guests seemed like a feasible idea to boost shoulder season bookings and fill hard-to-sell inventory. But paying a third party channel for peak season bookings seemed…well…foolish.
But in 2006 listing a home on VRBO.com was cheap. At $299 per listing, it only took a handful of bookings to produce an acceptable return on investment, and VRBO.com had traffic from guests looking for a deal. As a result, HomeAway continued to sign up properties by the hundreds and then by the thousands, and when possible, HomeAway acquired other third party websites with thousands of properties. As Amazon and others have proven, consumers like to shop where there is the most selection, and with increased supply came more guests which further increased supply, and so on.
In 2007 another third party channel launched which initially focused solely on professionally managed vacation rentals with an added element of reviews. This distribution channel was called FlipKey, and it attracted investment from TripAdvisor in 2008 – in the same year that Brian Chesky and his roommate Joe Gebbia were selling "Obama O's" and "Cap'n McCains" cereal to raise enough money to get their idea off the ground for a company called Airbnb.
Fast forward through a plethora of fundraising, acquisitions, successes, and failures including: Orbitz's failed entry into vacation rentals via a partnership with Zonder, HomeAway's transition into a publicly traded company, Expedia's spin-off of TripAdvisor, the VRMA's defunct Switch initiative, TripAdvisor's purchase of FlipKey, Booking.com's 2012 introduction of vacation rentals, Expedia's 2013 slow-moving partnership with HomeAway, the launch of metasearch via Tripping.com, HomeAway's partnership with Kayak, Airbnb's steady and uninhibited ability to raise capital, and Expedia's purchase of HomeAway. Now we find ourselves in present-day 2016 with third party channels that are almost essential in attracting new guests to vacation rental properties.
Listing Growth of Third Party Channels
While there are hundreds of third party channels for vacation rentals, the market is becoming slightly less fragmented with four major channels taking the lead: Airbnb, Booking.com, HomeAway, and TripAdvisor.
When TripAdvisor entered the vacation rental industry with FlipKey in 2008, FlipKey had 50,000 professionally managed listings. By 2011, they had opened up their model to owner managed homes and had grown to over 160,000 listings. This year the company began adding shared accommodations and increased inventory to a reported 720,000 listings by the middle of 2015.
HomeAway purchased VRBO.com in 2006 with 65,000 listings. In 2011, HomeAway took the company public and expanded to 641,000 listings by the end of the year. With a steady flow of market-leading acquisitions and growth in inventory, HomeAway reported 1,185,000 listings in the second quarter of 2015.
Founded in 2008, Airbnb fought their way into the short term rental market game. With small funds and big ideas, the founders joined Y Combinator's winter incubator session in 2009 for three months of training. In 2010, they raised $7.2 million and in 2011, actor and partner at A-Grade Investments Ashton Kutcher announced a significant investment in Airbnb. in 2015, Airbnb reported 1.5 million listings, is the third most valuable venture capital-backed company in the world, and is currently valued at $25.5 billion.
Booking.com entered the vacation market in late 2012 and by the end of 2013 had accumulated over 100,000 listings. Their model requires "instantly bookable" vacation homes. In 2014, they launched Villas.com, which has grown to over 350,000 listings as of August 2015, proving to the industry that an online marketplace can build a large supply of verified, instantly bookable vacation rentals.
Pricing Models
A variety of pricing models exist among the four major vacation rental marketplaces. Airbnb charges a 3-5% transaction fee to owners/hosts/managers and a 6-12% fee to the traveler. Airbnb collects money from the guest upfront and released payment to the "host" 24 hours after check-in. Booking.com also operates solely on a performance-based pricing model with owner/manager fees of up to 15% of the transaction.
HomeAway and TripAdvisor offer both subscription and performance-based pricing to vacation rental managers, and as of August 2015, TripAdvisor also still offered a Pay-Per-Lead Model, a model HomeAway phased out earlier this year.
Trust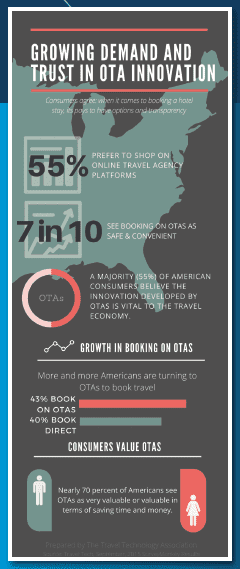 "By offering side-by-side comparisons, access to the growing array of travel options and competitive prices, online travel companies have empowered travelers to search, compare, and book from the palm of their hand from anywhere in the world," said Steve Shur, President of the Travel Technology Association. "It is clear the American public not only relies on the convenience of shopping across multiple travel brands in a single place, but they continue to trust online travel companies with their vacation and business travel itineraries."
Third party channels have been able to gain trust in the vacation rental marketplace by focusing on and continuing to improve the following components: selection, reviews, professional site design, advanced search capabilities, high quality images, updated availability calendars, accurate property information, mapping, easy online booking, and instant confirmation of transactions.
Building a marketplace with these elements requires an increasing amount of time, money, and expertise. As a result, the industry is seeing a consolidation among the third party channels and an expanding barrier to entry for new players in maturing markets such as the U.S. and Europe. For the first time in ten years, in 2015 no disclosed seed funding was raised by a new U.S. third party channel. Furthermore, every U.S. channel that received funding in 2015 has been around since at least 2010. 
How much are property managers willing to spend on third party channels? 
As business models transition and these online marketplaces evolve, investors almost unanimously believe vacation rental owners and managers are willing to spend 10-15% to secure a booking. As a result, the industry can expect to see distribution costs creep upward over the next few years.
Today's property managers are faced with the decision to: 1) absorb the third party fees, 2) pass the fees on to the owner, or 3) pass the fees on to the guests by raising prices on channels.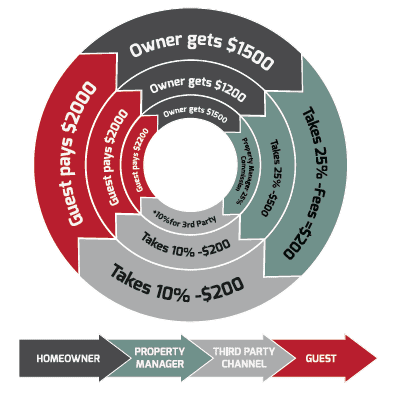 However, the third option of passing the costs of distribution on to the guests may not be sustainable. With the introduction of metasearch, the industry is likely to see rate parity become more encouraged and enforceable by the channels in the future. At least one channel (Booking.com) has already included rate parity requirements in their user agreements.
To determine how much to spend on third party channels, vacation rental managers should calculate their cost of acquisition of a new customer.
"I use my PPC costs as a gauge for what I am willing to spend on a third party channel, said Steve Milo, Founder and Managing Director at Florida based Vacation Rental Pros. "If we are spending 7% or 10% in a market, we consider that our cost of acquisition. In some markets it is higher because of the increased competition."
Milo added, "It is also important to determine your true cost of using the channels. Some channels are easy to work with while others require an enormous about of time and manual effort."
Maximizing the Use of Third Party Channels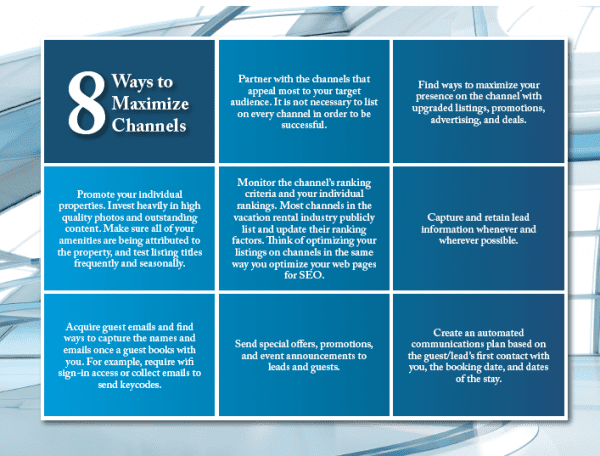 With the rising costs of listing on third party channels, it is critical that vacation rental managers formulate a solid plan for making the most out using these middle-man marketplaces. A successful strategy for the use of third parties for bookings involves maximizing the use of the channel, implementing a plan for lead capture, and retaining guests obtained through the channel.
Partner with the channels that appeal most to your target audience. It is not necessary to list on every channel in order to be successful.
Find ways to maximize your presence on the channel with upgraded listings, promotions, advertising, and deals.
Promote your individual properties. Invest heavily in high quality photos and outstanding content. Make sure all of your amenities are being attributed to the property, and test listing titles frequently and seasonally.
Monitor the channel's ranking criteria and your individual rankings. Most channels in the vacation rental industry publicly list and update their ranking factors. Think of optimizing your listings on channels in the same way you optimize your web pages for SEO.
Capture and retain lead information whenever and wherever possible.
Acquire guest emails and find ways to capture the names and emails once a guest books with you. For example, require wifi sign-in access or collect emails to send keycodes.
Send special offers, promotions, and event announcements to leads and guests.
Create an automated communications plan based on the guest/lead's first contact with you, the booking date, and dates of the stay.
by Amy Hinote

<!-comments-button-->