There's an ongoing debate about Airbnb and HomeAway and which company is going to win out as the leading marketplace for of private accommodations. In August, Airbnb reportedly raised $850 million, bringing its total equity funding to approximately $3.2 billion, according to Equidate. With a $30 billion valuation and the best public relations strategy in the twenty-first century, Airbnb was no surprise as the media's choice. However, there is compelling evidence that HomeAway is leading in the race for performance.
What HomeAway and Airbnb Have Done for the Vacation Rental Industry
By aggregating supply, increasing awareness, and mainstreaming online booking, both HomeAway and Airbnb have played disruptive roles in the travel industry by increasing the number of visitors choosing private accommodations for leisure travel stays. According to Phocuswright's A Market Transformed: Private Accommodations in the U.S., published this fall, the number of travelers staying in vacation rentals grew from one in ten in 2011 to one in three last year.
In 2006, HomeAway purchased VRBO.com, the industry-leading online marketplace that was the first to give vacation rental owners an avenue to bypass property managers and reach consumers directly. HomeAway continued to aggregate supply by acquiring dozens of regional online vacation rental marketplaces, and in so doing, it gave travelers a one-stop shop for whole home vacation rentals in leisure travel markets.
Airbnb approached the industry from an entirely different perspective with a focus on hosted urban supply. In 2009, after its highly documented humble beginnings, Airbnb raised enough investment capital to mass-introduce online-bookable, resident-managed lodging in urban markets to travelers seeking either a "local" experience or value-oriented accommodations.
By 2013, as both companies promoted private home lodging, the two business models began to experience marketplace overlap in inventory between Airbnb's urban accommodation alternatives and HomeAway's whole home vacation rentals in resort markets, drawing daily—and often unfair—comparisons from the media and the investment community.
Airbnb and HomeAway: The Raw Numbers
According to Beyond Pricing, Airbnb currently has approximately 2.8 million private accommodations listed on its site as of September of 2016, up from 2.2 million in March. In contrast, according to its latest reporting, HomeAway has approximately 1.2 million listings.
However, comparing the two channels based solely on the number of listings does not tell the whole story.
Last year, HomeAway had an estimated $14–$16 billion in vacation rental bookings. By comparison, according to a Tnooz article by Sean O'Neill, "A new estimate by US investment bank Cowen & Company predicts that the [Airbnb] bookings site will process $12.3 billion in reservations this year, up from an estimated $7.2 billion in 2015."
Based on calculations of a generalized average annualized booking trend, the numbers suggest that each listing on Airbnb generates an average of $4,000 in bookings per year versus $11,650–$13,330 per year on HomeAway.
All Inventory Is Not Created Equal
What the investment community has not yet realized when comparing the two companies is something that vacation rental managers have long known—all inventory is not created equal. When examining Airbnb's and HomeAway's overall performances in the vacation rental industry, it is important to examine each channel's inventory makeup.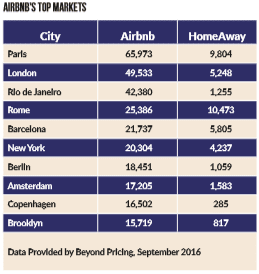 According to data from Beyond Pricing, only 16 percent of Airbnb's listings, as compared to 33 percent of HomeAway's listings, are in the United States.
HomeAway's inventory is primarily made up of whole home vacation rentals, and their top US markets are resort areas such as Kissimmee/Davenport (Disney World area), Panama City Beach, Myrtle Beach, the Upper Gulf Coast, Hilton Head, and Breckenridge.
Airbnb's top US markets for shared and whole home rentals are in urban markets such as New York, Los Angeles, Miami, and San Francisco.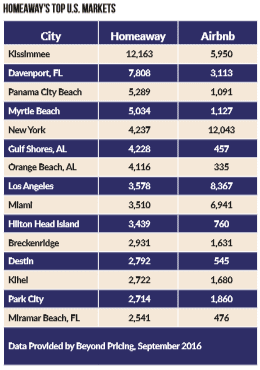 The total number of listings is a titillating metric for investors, but the number is not indicative of revenue performance. The average nightly rate for the shared accommodations and urban apartments prevalent on Airbnb is substantially below the average nightly rate for the whole home vacation rentals comprising the bulk of HomeAway's supply. In addition, the average length of stay and average number of available nights are significantly higher for the listings found on HomeAway.

In addition, according to Beyond Pricing CEO Ian McHenry, "Approximately 44 percent of Airbnb's 2.8 million listings have not received a review."

With Airbnb's heavy focus on reciprocal reviews, this number reveals that a substantial portion of Airbnb's listings have never had a booking completed through the site.

Performance among US Vacation Rental Managers

Although Airbnb draws the bulk of media interest, the majority of US vacation rental managers report that they receive more bookings from HomeAway than from Airbnb.

According to Phocuswright's Douglas Quinby, "In terms of sites used, HomeAway.com and the HomeAway family of sites are far and away the most important for property managers."

"HomeAway's performance decimates Airbnb's," said an executive (who wished to remain anonymous) at one of the country's largest vacation rental management companies. He reported that HomeAway accounted for over 85 percent of his company's total number of bookings from third-party channels, while Airbnb brought in less than 2 percent.

John Banczak, co-founder at Turnkey Vacation Rentals, which manages 1,500 vacation rentals in 32 U.S. markets, agreed. "HomeAway does significantly more volume than Airbnb, although we still prefer the Airbnb pricing model," said Banczak.

Since its purchase of VRBO.com, HomeAway has dominated resort markets, but now that Airbnb is focusing on growth within these nonurban markets, the tide may be turning.

HomeAway's Connectivity Advantage

HomeAway also has a significant advantage with its broad connectivity to the property management systems being utilized by vacation rental managers. In 2010, HomeAway purchased Instant Software, the largest software provider for vacation rental managers—a move that allowed HomeAway to secure direct connectivity to professionally managed, online-bookable inventory across the United States. In addition, HomeAway now offers almost all of the software platforms in the vacation rental market a direct connection to its listing sites.

In contrast, Airbnb experienced a steep learning curve in building working integrations and has been slow to provide the same level of connectivity to property management software systems. In addition, Airbnb does not have direct connectivity to the HomeAway's software systems.

"HomeAway Software is never going to give Airbnb access to its API," said our unnamed source. "And the third-party intermediaries can't make Airbnb work because of the way it is structured. They can't handle multiple booking rules. Why? Because Airbnb's senior leadership wasn't committed to professional property managers. They didn't think that property managers provided the level of service that individual hosts provide. Airbnb absolutely blew it."

Scott Breon, chief revenue officer for Vacasa, which manages 3,800 vacation rentals, has also experienced difficulty in connecting to Airbnb, but he is more optimistic about Airbnb's future. "Airbnb's API and closed-communication interface continue to be a challenge to integrate with," said Breon. "But once they invest in the next generation of API integration, I see them quickly achieving 20 to 30 percent overall market share and the potential for upwards of 70 percent market share in West Coast urban and west coast 'last minute romance' markets."

In August, Shaun Stewart, global head of vacation rentals at Airbnb and the company's face to the professionally managed community, left Airbnb to join Google X's Self-Driving Car Project.

 

Is HomeAway in Danger of Losing its Stronghold in Vacation Rentals in Resort Markets?

Breon is now seeing mixed results with listing Vacasa's properties on Airbnb and HomeAway.

"HomeAway and Airbnb booking trends fall along some distinct but blurring lines," said Breon. "I look at customers based on geo-seasonal-demographic-intent segments, and within each of those buckets there are definitive 'winners.'"

Breon continued, "HomeAway wins in the trend toward traditional second home markets, older demographics, larger party size, longer booking windows, and East Coast markets. Airbnb skews toward urban markets, international markets (beating out Booking.com), younger demographics, smaller party size, smaller booking windows, and in proximity to San Francisco."

More and more vacation rental managers are beginning to list on Airbnb. In the most recent Phocuswright study, research showed that the percentage of property managers listing on Airbnb increased from 7 percent in 2012 to 47 percent in 2016.

Although HomeAway has dominated the US vacation rental industry for the past decade, there are questions surrounding its ability to sustain the leading market position because of increasing transactional costs for travelers and suppliers, along with changes to its criteria for search results.

Turnkey's John Banczak prefers Airbnb's pricing model to HomeAway's. "Owners see almost 11 percent commission and credit card fees from HomeAway compared to 3 percent from Airbnb, and it never sits well with them," said Banczak.

Banczak also noted that HomeAway's changes to "Best Match," the search algorithm that determines the order in which listings appear for travelers, have caused friction. "Owners really want to see more transparency in the HomeAway search results," he said. "We spend an unbelievable amount of time trying explain to owners why their fully bookable, highly reviewed homes are showing up below homes without the book-it-now button and with no reviews. HomeAway has become the site of frustration for owners, which leads to frustration for us."

Professional property managers in core vacation rental markets are seeing a much higher number of bookings from HomeAway than from Airbnb. But the race is far from over. Over the next year, overlap between the two companies will grow as Airbnb pushes quickly into resort markets, and HomeAway increases urban supply. However, while they rush to capture market share, both companies could benefit from making some internal improvements. The winner in the industry will be the company that provides the best booking experience for both the supplier and the traveler.

<!-comments-button-->