An Inside Look at Booking.com: David Mau, Director of Product at Booking.com, talks to VRM Intel about their growth, pricing model, regulations and the importance of professionally managed vacation rentals.
This year, the online vacation rental marketplace has experienced numerous changes to the landscape including new pricing models, the addition of fees to travelers, changes in sort criteria and cancellation fees, and an industry-wide transformation to a transactional marketplace.
But while the conversation is revolving around the supplier angst at HomeAway and the regulatory chaos caused by Airbnb's hosts, Booking.com is quickly and stealthily building its inventory of vacation rental listings, growing over 30 percent in the last year.
Besides the increase in the number of listings, what makes the vacation rental inventory of Booking.com unique is that it is verified, instantly bookable and largely professionally managed. In addition, Booking.com has not adopted a traveler (or service) fee to their pricing model.
We reached out to David Mau, Director of Product at Booking.com, to find out more about Booking.com's:
Growth Attribution
Working with Property Managers vs Individual Homeowners
"Vetting" properties
Online Booking
Traveler Fees
Vacation Rental Software
Regulations
Q: Booking.com has seen a 30 percent growth in vacation rental listings since last year. To what do you attribute this growth, and is it in line with Booking.com's expectations?
DM: At Booking.com, our aim is to connect travelers from all over the world with their ideal stay in the most seamless and enjoyable way possible, whether it's a five-star hotel in New York City, a vacation home in Florida or a cozy apartment in San Francisco. As with every move we make to improve our product offering, we listen to our customers. In recent years, we've seen the demand for vacation rentals, homes and apartments steadily continue to grow. To make sure we're providing the best possible range of options, we've been busy building relationships with as many different kinds of accommodation providers as possible and adjusting our platform to meet all of their unique needs. To that end, as of today, we offer more than 460,000 vacation rentals on Booking.com that have over 2 million bookable rooms. In fact, more than 70 percent of the accommodation options we feature on our website are something other than a traditional hotel. Our customers are hungry for choice and new experiences – and that's great news for the vacation rental industry. We're definitely pleased with the growth that we've seen on our platform, and we keep building new partnerships so that we can continue to inspire our customers with the diversity of choice they demand.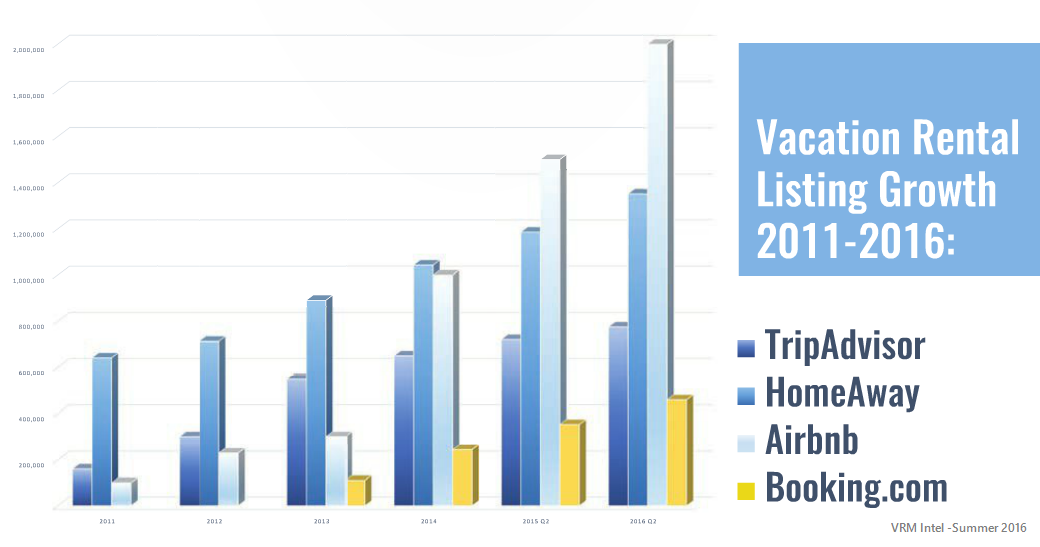 Q: Booking.com is seeing much of its growth in professionally managed listings. In your earnings call last quarter, CFO Daniel Finnegan said, "We've got teams of people at Booking.com that are continuing to innovate and grow (vacation rental) business. Right now, it's mostly through property managers." Can you share some of your objectives in working with property managers?

DM: We believe that the best way to scale the growth of vacation rentals, homes and apartments on our website, and thus scale what we offer to consumers globally, is to keep a dedicated effort on professionally managed properties. This helps to ensure a seamless, professionalized experience, rather than the constant unknowns of dealing with individual property owners who may not be as well-versed in the vacation rental business.

As with all of our accommodation partners, our primary objective with the professionally managed sector is to make sure that our working relationships run as smoothly as possible so that our partners can continue to deliver great stay experiences to travelers and grow their businesses through Booking.com. We want to make it as easy as possible for them to sign up and manage multiple listings with us, so we work hard to provide the flexibility and insights that will help them grow their businesses. Managing a portfolio of several vacation homes with different owners can come with a unique set of challenges. We get that and so we are innovating our interface to better meet those needs, including the addition of a more robust system to help facilitate payments for those partners that require it, as well as a messaging system that allows partners to quickly and easily chat with their guests to arrange key pick-ups or special requests from their mobile phone in one handy interface.

 

Q: As you add more vacation rental homes to your sites, do you see differences in working with property managers vs. individual homeowners?

DM: We've learned over the years that a one-size-fits-all approach doesn't work for every partner, but investing time in understanding their different needs does. One of the things we know from working with property managers is that they're typically industry professionals who are doing this full time. Because they're managing multiple properties, we see a lot of synergies in terms of the scalability of their processes and an understanding of e-commerce and online travel booking. The key is to align our processes and provide solutions which make their management of multiple properties on our platform as easy as possible. While we also work with lots of super savvy individual homeowners who've been in the business for years, we also find that many people who are renting out a single apartment or vacation home for the first time aren't doing this as a full-time job. They simply have another set of needs and require a different level of support. Meeting all these different, unique needs is certainly challenging, but it's also one of the aspects of our work at Booking.com that drives us to keep innovating.

Q: With all of the discussion about regulations involving vacation rentals, how does Booking.com "vet" homes as they are added to the site? Do they need to be legal or registered?

DM: When accommodation providers sign up to list with Booking.com and agree to our terms and conditions, we ask them to verify that they are operating in full compliance with local laws and requirements. We will immediately remove any property that is found not to be in compliance. Further to that, we have very robust measures and dedicated teams in place to guarantee that only legitimate properties are allowed to list on our site.

 

Q: Do you require all homes to be instantly bookable? How do you handle varying cancellation policies?

DM: As our goal is to make booking any type of accommodation anywhere in the world online as seamless and as easy as possible, providing our customers with instant confirmation for all bookings is the cornerstone of our product offering. Our customers love this about Booking.com, and it's one of the key features that sets us apart from other companies operating in the vacation rental space. This ease of booking translates directly into more bookings for our property partners, so we think it's a win-win-win.

From our point of view, this all has to do with customer expectations, which are constantly evolving. With the leaps forward in technology over the past decade, we're all getting more and more used to being able to shop online and get instant confirmation of our purchases no matter whether it's groceries, a TV or an upcoming vacation. We believe that having to engage in a discussion with a property before ever confirming the stay is something that adds friction to the travel experience. We're committed to a more streamlined experience for customers.

With regards to varying cancellation policies, this is something we have been managed from the very beginning of our business. We've purposefully built up our tooling over the years to be able to accommodate a wide range of unique cancellation policies over which our partners are in total control. Our goal is to enable our partners to run their businesses as they see fit and to make sure that these policies are crystal clear to our customers at every stage in the booking process so that there are no surprises later on.

 

Q: HomeAway, Airbnb and TripAdvisor have implemented traveler (aka service) fees while Booking.com is continuing with a commission model. Is Booking.com considering a traveler fee? And do you believe that this pricing model of charging travelers is optimal and/or sustainable?

DM: At Booking.com we have never charged a booking fee to customers for our service, and this is something we are extremely proud of. From our point of view, charging travelers is neither optimal for the customer, nor sustainable as a long-term business model. We believe that a  commission-based model, which we have used for the past 19+ years, is not only fair for our partners who can choose to list on our website or not, but also results in total transparency for consumers. We are an extremely cost-efficient marketing channel for properties, connecting them with customers from all over the world for a fee that is far, far smaller than other marketing channels like, say, TV advertising. Important to note, we only collect commission when a guest stays at their property. This means that partners only pay for our services when it results in additional business for them – and travelers can continue to book with us with the confidence of knowing that there are no hidden booking fees and that we offer a best price guarantee.

Our vision is simple – offer the widest possible choice of stays in the world and make it easy for people to find, book and experience the properties that are right for them, whether it's a hotel, vacation rental or any other type of property. Our current model enables us to do just that. We view charging booking fees as a deterrent for consumers. Why would you pay a booking fee for a vacation home when the resort down the street doesn't charge one? We understand that this is not how the vacation rental industry has traditionally operated, but we do believe that it is the way forward. Empowering customers with the same ease of experience they've grown accustomed to in booking traditional hotels is what will help the vacation rental industry continue to grow and prosper well into the future. We're looking forward to continuing to innovate our business together with our vacation rental partners to do just that.

 

Q: When Expedia purchased HomeAway, Expedia took on HomeAway's software division that provides property management software to vacation rental managers. Historically, EXPE hasn't gotten into leveraging software, but PCLN has. Do you believe having vacation rental property management software provides an OTA with a competitive advantage in this space? Are you considering other acquisitions in the vacation rental industry?

DM: Different partners have different needs. While some partners don't rely on software, or have their own processes and solutions, we do see many that find it more convenient to have a one-stop-shop solution to leverage to run their businesses smartly and efficiently. Many properties prefer not to work with several different companies to get all of the tools they need to operate on a day-to-day basis. We invest in understanding the varying needs of our partners and take a customer-focused approach to creating tools that best meet these needs. For these partners, providing them with access to property management software does bring extra value to our working relationship and makes their lives easier. At the end of the day, that's simply our goal.

 

Q: In light of the volatile regulatory and technology environment for vacation rental managers, are there any industry trends or predictions that you see in the coming two years for vacation rental managers?

DM: We see a huge appetite from consumers around the world to explore a wide variety of accommodation experiences. More and more travelers are seeking out local and authentic experiences at a lower cost and with more freedom and enhanced privacy. Vacation rentals fill this niche perfectly. In general, we find that vacation rentals are growing in popularity with travelers from a wide variety of profiles, but especially with families, couples of all ages and groups of friends who are travelling or going on holiday together. As technology brings us all closer together and it gets easier and easier to travel, we believe that the vacation rental industry is only going to continue to grow, but that also means that some changes and innovation will be required. Yes, there are some regulatory questions underway, but this is a natural part of the emergence of any new marketplace. Ultimately, we believe these will work out because consumers demand this product, vacation rental owners benefit from the industry's growth, and local governments benefit from increased tourism in their regions. In the end, we believe that smart partnerships and the right technologies make the next two years and beyond look very bright.

By Amy Hinote, VRM Intel

<!-comments-button-->