"Mr. Hale is no longer with the company," a HomeAway customer service representative told a homeowner on Saturday. "He is off to other pastures."
Confirmed by the company, the news of Homeaway COO Tom Hale's departure comes as a  surprise. However, during Hale's tenure as COO, HomeAway has faced a series of difficulties, including the roll out of major initiatives (i.e. its "Best Match" sort algorithm that almost immediately resulted in a decline in inquiries and bookings for many homeowners). In early November, Expedia announced its intent to purchase HomeAway and that it would be adding a traveler fee in order to compete head-to-head with Airbnb and to increase its overall "take rate."
In late 2015, Expedia completed its acquisition of the company for $3.9 billion and revealed a plan to triple HomeAway's earnings to $350 million by 2018, and consequently, the traveler fee was implemented in February 2016.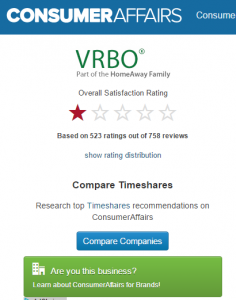 As a result, HomeAway's suppliers – both homeowners and property managers – pushed back.
Some suppliers vowed not to renew their subscriptions, other turned to social media to complain, and many looked for marketing alternatives. The traveler fee was seen as the "straw that broke the camel's back" in a long series of HomeAway's actions which dictate fundamental changes in the way the vacation rental industry operates between suppliers and travelers.
In March, a federal lawsuit was filed that accuses HomeAway of engaging in "bait and switch tactics" after rolling out the new service fee for customers.
COO Tom Hale quickly became the face of the changes, fielding questions, accusations and attacks on HomeAway Community forums, on Q&A webinars and on social media.
While the comments directed to Hale were at times vicious and personal, Hale towed the Expedia line and maintained  – without exception – that the new policies were good for suppliers and good for travelers.
Hale stepped into the COO role last year after Brent Bellm resigned from his position as President and COO. The moves were announced the same day that HomeAway posted first quarter financial results that fell short of investor expectations, contributing to share prices dipping 13 percent in after-market trading.

Details surrounding Hale's departure are unknown.

Expedia is scheduled to report on Q1 2016 earnings on May 5.

<!-comments-button-->