The Comparative Dashboard Vacation Rental Managers Have Been Looking For!
UPDATED: VRM Intel Dashboards sold in 2018 and is now known as Key Data Dashboard.
The VRM Intel Dashboard provides vacation rental managers (VRMs) the ability to benchmark their business performance against local and regional markets.
With a subscription to the VRM Intel Dashboard, professional vacation rental managers can:
Log in to the VRM Intel Dashboard.
Select the markets you want to compare.
Select date range(s).
Select attributes (i.e. property type, bedroom, bath, location, occupancy, key amenities).
VRM Intel is an independent organization that is able to provide the current, accurate, unbiased, forward-looking data VRMs need to make important business, revenue management, and marketing decisions.
Early Pricing: $500 setup & $100 per month per destination (pricing available through Nov 1, 2017)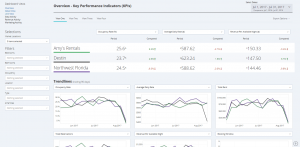 The information in the VRM Intel dashboard can help you make fact-based revenue management decisions, gauge your business performance against your local market, and track trends in the local and regional areas. You can also examine indivudual unit performance and use the information as a tool for communicating with property owners. In addition, this independent data is a beneficial fact-checker against pricing suggestion tools being launched by Airbnb, HomeAway and Booking.com.
The KPIs in the dashboard include:
Average Daily Rate
Average Length of Stay
Booking Window
Occupancy Rate
Cancellation Rate
Average Booked Rate
Average Stay Value
RevPAN
…and more!
Call us at 410-829-0711 or email us to find out more information about subscribing to the VRM Intel Dashboard, or click here to sign up.

<!-comments-button-->