I keep six honest serving-men
(They taught me all I knew);
Their names are What and Why and When
And How and Where and Who. 
—Rudyard Kipling 
In grade school, we learned that who, what, when, where, why, and how need to be answered to fully understand a subject. Our reports, research papers, and essays were evaluated by how effectively we addressed these important questions.  
It is not so different in the vacation rental industry. For guests making vacation decisions, finding answers to these core questions is critical in choosing the right lodging alternative.  
Who? Who is going to go on the vacation? A couple? Family? Friends? Solo?
What? What type of lodging do I want? A hotel? House? Condo or apartment? B&B? Hostel? Cabin? Shared space? Ship? Tent?
When? When do I want to go? Do I have set dates? Do I have a date range?
Where? Where do I want to go? Do I have a specific location? A region?
Why? Why am I going on vacation? Do I want to sit on a beach? Do I want to ski, fish, golf, tour a city, or go on a road trip?
How much? How much do I want to spend on accommodations? Do I have a set budget?
Every advanced marketer in online traveler is seeking to reach the guest earlier in the booking process. Determining which of these questions the lodging guest is asking first in the leisure travel decision path allows online marketers to insert themselves sooner resulting in a significant competitive advantage.
However, in creating an online booking path today, the vacation rental industry—and the lodging sector as a whole—has made key assumptions that may not be accurate. This assumption is that guests know when, where, and what before they know anything else.  
Websites have been designed to allow guests to search by date, location, and accommodation type; and marketers pay big bucks for Google AdWords phrases such as "Corolla vacation homes," "Chicago hotels," or "Destin condo rentals."  
For travelers who know exactly where they want to go, when they want to travel, and what type of lodging they want before setting off online to find a vacation, the current online booking path is becoming increasingly efficient.   
What if travelers take a different path?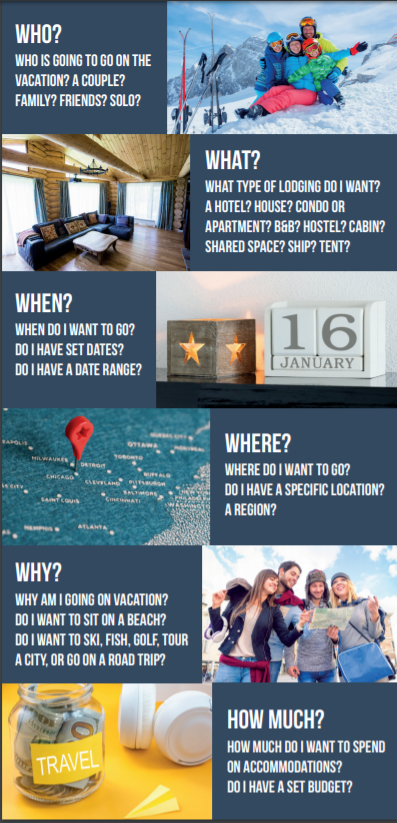 However, the reality is that many vacationers don't know those three W's when they begin their online research. 
Instead, travelers more often than not, know why, who, and/or how much before they know anything else.  
For example, a family may know they want a holiday ski vacation but don't know which destination is best. A group looking for a "girlfriend getaway" might be considering Sedona, Napa, New Orleans, or New York. A summer beach trip could be taken anywhere within a seven-hour drive of a family's home in Atlanta. Golf trip alternatives might include South Carolina, California, or Alabama. This is true for fishing expeditions, leaf season outings, lakeside cottage getaways, whitewater rafting, or any number of potential trips.  
For these travelers, online research becomes much more challenging. 
If travelers know how much they want to spend but are flexible on location, the decision is even more difficult. For the family who knows they have $1,500 for a week at the beach but doesn't know which beach destination gives them the biggest bang for their buck, searching online is almost impossible.  
OTA Booking Path Assumptions
Currently, most vacation rental websites offer guests the option of searching by where, followed by when and what. On an OTA, travelers are expected to go to  the site and select flights, hotels, vacation rentals, or cruises. From there, travelers are steered to select dates and a location. 

However, if travelers would prefer to search by why (fishing, beach, ski, golf, etc.) or how much, there is no easy option. 
For example, if a traveler wants to find a cabin rental within driving distance of home for four nights for under $500, where does that traveler start? 
Herein lies the next opportunity in online travel search. 
Why Is Giving Travelers the Option to Search by Who, Why, and How Much So Critical?
The reality is that by the time travelers know where, when, and what, they have already decided who, why, and how much. 
In other words, for guests to have selected a location, dates, and what type of lodging they want, they will have already determined why they are going on a trip, who they are going with, and how much they want to spend. 
For marketers look for ways to affect a traveler's decision earlier in the decision-making process, the current booking path on OTAs is not sufficient.
The online travel sector will experience significant disruption when travelers are given a platform that efficiently allows them to search by who, what, when, where, why, and how much—or any combination of these considerations. 
Taking the Travel Agent out of the Online Travel Agency
 (OTA)
Those of us over 45 years of age likely remember the role travel agents once played for vacationers. They had offices with bright destination posters on the walls and racks of brochures for adventures around the globe. The traveler would set an appointment to meet with an agent who would take careful inventory of all the things the traveler wanted to do on vacation, asking who is going on the trip, what kind of accommodations do they want, where do they want to go, why is the trip being taken, and how much the traveler wants to spend.
The agent then would research and provide options tailored to fit all these ideas and desires, creating a full vacation. These recommendations included accommodations, transportation, guided tours, and tickets for attractions and activities. In many cases, the travel agent also made restaurant reservations and included some special thank-you to be provided along the way (e.g., flowers in a hotel room). 
The idea that today's online travel agency (OTA) provides the guest with the kind of service that travel agents of yesteryear offered is laughable.
Today's OTAs are merely lengthy catalogs of travel providers that begrudgingly pay for placement. If the traveler has not already determined specific dates and a narrow location, these sites are difficult to use for research. There is no travel agent to help you at an OTA. 
The downside of using today's OTAs is that travelers get boxed in to answering the wrong questions first, are fed results driven by OTA profits, and consequently end up with a travel experience that is not all that it could be.  
Tomorrow's OTA will provide this service.
Ideas for a Head Start
Vacation rental managers can get a head start and create a little disruption themselves by creating trustworthy, relevant, indexable content that helps their target market guests to conduct online research.  
A vacation rental operator in Sedona might contact other companies in Sonoma wine country, Destin, and Key West to create an online "Guide to Girlfriend Getaways." 

 

A property manager in a value beach market might collaborate with like-type beach destinations to create "Family Beach Vacations for under $1,000."

 
Whatever niche a company is in—family, luxury, attractions, parks, fishing, battlefields, etc.—marketers could find it useful to combine forces with other companies in similarly focused destinations to target guests who know who, what, why, or how much behind their vacations before they know when or where. 

In the coming months, we can expect online travel technology and marketing to move toward targeting the traveler earlier in the decision-making process.

As the focus shifts from addressing the location and dates of a trip to addressing the intent or motivation for the trip, the game will change for all vacation providers. Vacation rental providers who are able to create innovative strategies to get ahead of this trend will be rewarded for their efforts. 

<!-comments-button-->