In yesterday's meeting with investors, Expedia took time to provide an update on activities related to their recent purchase of HomeAway. Expedia CFO Mark Okerstrom described the growth opportunities for HomeAway in two pieces, secondary homes and primary homes in urban markets.
Okerstrom also laid out a two phase plan to increase revenue for HomeAway which included 1) take what HomeAway already has, turn it to be 100% online, and better monetize transactions, and 2) leverage opportunities in the urban market.
"The traveler fee has been launched in the US, early. Encouraging signs. We like what we see," said Okerstrom.
"We have really tilted the focus of this business from being a very supplier-focused business focusing on one side of the platform, focusing on getting subscription renewals – the right thing to do at the time – to really a two-sided platform, taking this formula (that Dara described to you) of bringing online marketing, world-leading conversion platforms, utilizing test-and-learn technology and supplier facing technology and turning it into a real online business"
Okerstrom added, "We've taken some of the money that we've seen incremental from the traveler fee, and we've started to put that back into the business. The introduction of a 'Book with Confidence Guarantee' essentially says, 'Traveler, if you book on the HomeAway platform, and you don't like the property or you have a dispute with the owners about the damage deposit, we will take care of it for you."
"This is a difficult transition that we are pulling off, but we are opportunistic about what we've seen so far."
During the Q&A, Expedia admitted that they had seen a "tick down in conversion rates" on HomeAway.
"It is so early, and the teams are still testing various combinations of subscription rates and traveler fees, so it is too early to give a take rate. We have seen a tick down in conversion rates as you actually might expect, nothing out of the ordinary, entirely expected."
"We feel good about what we see," he restated.
Expedia Inc. CEO Khosrowshahi reiterated that Expedia believes it can build HomeAway into a business with $350 million in earnings before interest, taxes, depreciation and amortization (EBITDA) by 2018, up from about $120 million last year.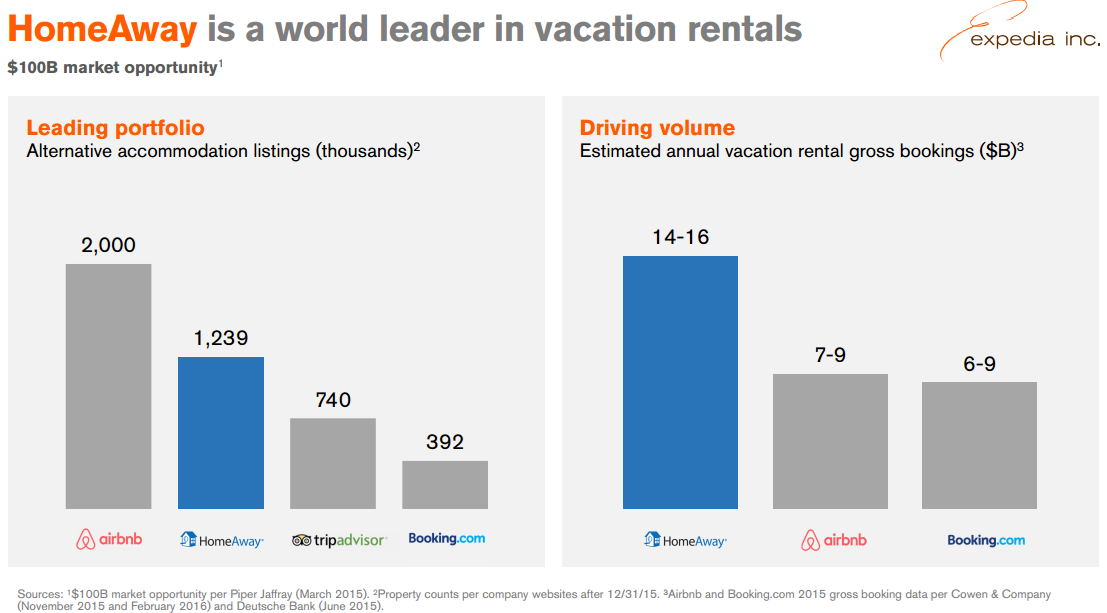 <!-comments-button-->