Last week at the LiveRez Partner Conference in Boise, Shaun Stewart, chief business development officer of Waymo and former global head of vacation rentals at Airbnb, gave attendees a follow-up to the predictions he presented three years ago and discussed the state of the vacation rental industry.
Airbnb's Increased Focus on Professional Property Managers
In 2015, there was a lot of hype about Airbnb shifting its focus to meet the needs of professional property managers (PMs), but managers were skeptical about whether Airbnb would be able to adapt to their needs. Stewart demonstrated that over the last three years, with over 100 software integrations, Airbnb has indeed increased its focus on management companies. In 2018, 55 percent of Airbnb's hosts offer multiple listings, compared to 45 percent of hosts who only list one home. In contrast, he showed 67 percent of HomeAway's suppliers offer multiple listings and 33 percent list only one property.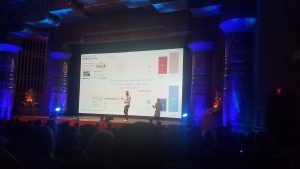 Stewart discussed the difference in the number of monthly reviews on Airbnb vs HomeAway (below), and the steps Expedia has taken since purchasing HomeAway, including the introduction of guest fees, a 25 percent increase in listing fees, the focus on instant booking, the new 10 percent attribution fee, communication restrictions between suppliers and guests, taking over the branding in company apps, the Premier Partner program, and changes to search algorithms.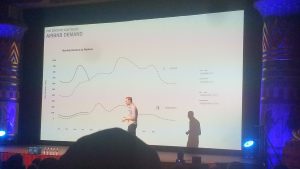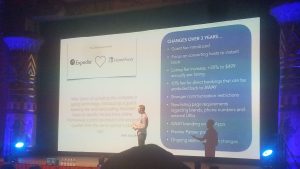 Increased Demand for Short-term Rentals
Stewart also discussed the increasing demand for short-term rentals as a lodging alternative. Demand for short-term rentals as a lodging alternative has increased 81 percent between 2012 and 2017, and is predicted to increase 59 percent between 2017 and 2022.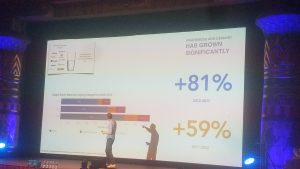 Multi-destination Models
Three years ago, Stewart predicted that we would see new multi-destination models come to the forefront. While the prediction was correct, the industry has found that the vacation rental business is more complex and harder to scale than initially thought.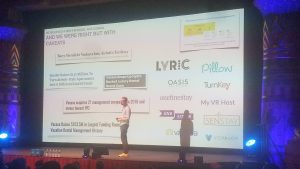 Instant Book
His prediction that the industry will move toward instant online booking requirements is coming true, and he showed that the online share of private accommodation revenue grew from 24 percent in 2015 to 52 percent in 2017. All of Booking.com's listings are now instantly bookable, and HomeAway and Airbnb both have significant initiatives to push managers and hosts to instant booking. But he also pointed out that there are valid reasons that hosts are moving slowly to instant booking, and that luxury markets are moving more slowly than the market as the need to vet guests, set expectations, and provide specialized service is higher for these homes.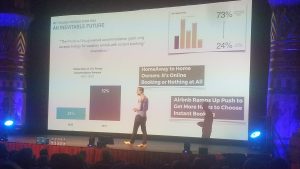 Technology Consolidation
In the vacation rental industry, we are hearing a ton of buzz about consolidation among property management software and technology companies. Stewart explained that this kind of consolidation is inevitable as private equity enters the space to help tech companies scale. When asked about it in a follow-up question, he said for software companies, it is "eat or get eaten." He also predicted that new technology offerings will continue to emerge to service managers and hosts. Examples are technology designed for safety and security, data and analytics, goods and services, and check-in solutions.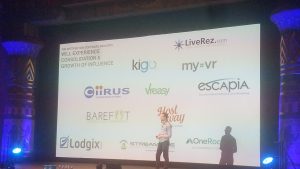 Real Estate Investment in Short-term Rentals
As many in the industry are observing, real estate investors are interested in the appreciation and income-producing opportunities in short-term rentals, and they are looking for data to make buying decisions. Stewart discussed the art and science behind property selection, including factors such as:
Real estate prices
Local vacation rental rates
Insurance, taxes and maintenance costs
Overall popularity of tourism destinations
As PMs and investors get more savvy in analyzing rental performance as a driver for real estate acquisition, data will play an increasing role.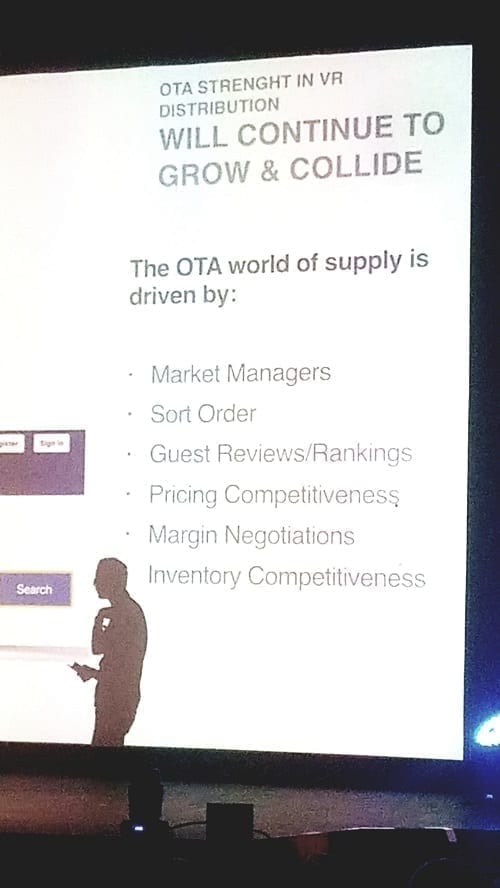 OTA Take Rates

Stewart also talked high-level about the challenges OTAs face when looking at short-term rentals. While OTAs are pushing to provide all lodging types to customers, the take rate for short-term rentals is currently much lower than hotels. Stewart explained how OTA market managers are incentivized, the importance of sort order and reviews, margin negotiations, and inventory competitiveness. As the race for supply settles and the industry matures, OTAs will inevitably compare take rates and push the short-term rental industry to match hotels in commissions.

<!-comments-button-->