Google is moving into vacation rentals, and the decision is expected to significantly change the way travelers search for and book vacation homes.
At the Onsite Property Management Association (OPMA) Summit at the Reunion Resort in Orlando last Tuesday, members were updated on the progress of an ongoing beta program between Google and the OPMA membership.
Google's vacation rental beta program with OPMA is being facilitated through technology integrations provided by BookingPal, a channel management provider in the alternative accommodations industry. The partnership was initiated by BookingPal advisor, David Baggett, co-founder of ITA Software, which was purchased by Google in 2010.
According to BookingPal founder, Alex Aydin, Google had been monitoring the vacation rental sector for some time and decided to test its US vacation rental beta program first with onsite property managers due to the on-premises services these managers provide to guests. As a result, BookingPal reached out to OPMA, which represents 60,000 rental units, to gather a group of onsite managers for the beta program.
Since the program's launch, OPMA members have seen $1.2 million in revenue from bookings through BookingPal.
Challenges for Google in Adding Vacation Rentals
During the session, BookingPal disclosed that the vacation rental beta program has encountered challenges along the way.
"The Google platform was not set up for vacation rentals, so they've had to make modifications," Aydin told members.
For example, only one URL is currently offered for each Google card making it difficult to display key-level inventory. Other challenges include the ability to index each property geographically for search and mapping, connectivity with booking engines, channel limitations, and traffic limitations during the beta period.
Despite the challenges, Aydin expects the program to be fully operational in 2018.
Google's European Launch
As Skift first reported, "Some Google searches have been revealing an option to comparison-shop vacation rentals."
According to the article, "The results are limited to a small subset of alternative lodging inventory similar to traditional vacation rentals. Collectively we counted about 7,000 property listings. That is a mere smattering of the potential rental listings in Europe."

Google told the Mercury News that it considers the functionality and offering type to be a "small-scale experiment."
"This involves a very limited amount of inventory on a trial basis," a company spokeswoman said. "We hope to expand to more inventory, inventory types, and partners soon."
What Vacation Rental Managers Can Do
According to Aydin, a Google card will be required for each vacation rental. Vacation rental managers can get ahead of the curve by providing business information with unique URLs for each home or unit under management. Becoming an early "owner" of the business information for each property will provide an initial competitive advantage as Google rolls out its vacation rental product.
In addition, working with channel managers who are partnering with Google will make connectivity easier in the coming months.
What will this mean for Airbnb and HomeAway?
According to Aydin, "up to 90 percent of OTA online ad budgets are spent on online search engine marketing and optimization." As Google dives deeper into the vacation rental sector, OTA's cost of reaching travelers likely will be impacted.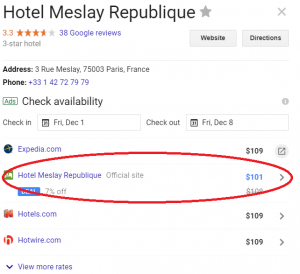 However, another potential consequence for OTAs and online marketplaces affects the rates they are able to charge to travelers.

Airbnb charges travelers a 6-12 percent "guest service fee" on top of the rental amount, while HomeAway's "service fees" can add over 15 percent to the rental cost for travelers.

Google's results will display comparative pricing, possibly making it more advantageous for travelers to book directly with the property manager.

<!-comments-button-->