Tennessee-based private equity firm Greater Sum Ventures (GSV)—partnering with Insight Venture Partners—has been steadily rolling up large technology companies in the vacation rental industry, acquiring majority stakes in Streamline Vacation Rental Software, Bizcor, Bluetent (which purchased Visual Data Systems), Rental Guardian, Virtual Resort Manager (VRM), and most recently, LiveRez.
And the number is growing as more companies are currently in the due diligence process.
Reportedly, purchase agreements for these companies include a mix of cash, shares for founders in the overall rollup, and earnout consideration based on performance. Each company's deal is different, with some founders receiving a more optimal mix of compensation levers than others. The structure of the purchase allows each company to claim that GSV has "invested" in the company rather than labeling the commercial arrangement as an acquisition, and tight non-disclosure agreements prevent founders from discussing the purchase arrangements.
What are GSV's future plans with the rollup?
GSV has repeatedly declined to comment on its intentions.
However, according to sources, GSV's plan is to sell in short order. Several insiders say that GSV's plans are to roll up vacation rental technology companies, find synergistic cost savings, negotiate and optimize existing contracts, and package the technology group for sale in as little as twelve months.
VRM Intel has received several reports from technology companies and service providers who opened up their books to GSV in hopes for an acquisition that did not come, giving GSV unprecedented insight into key financials and revealing a unique look into enterprise-level technology offerings and profitability by sector.
Vacation rental industry concerns
Over one hundred vacation rental managers have reached out to VRM Intel to find out more about GSV's activity.
The leading cause for concern revolves around innovation and implementation.
With the end of support for legacy systems such as PropertyPlus, Entech and First Resort, which HomeAway Software shut down last month, many enterprise-level vacation rental managers migrated to technology solutions now under the GSV umbrella, purchasing software systems they believed were moving forward and innovating. Instead, they have found themselves in an implementation backlog with shrinking hopes of seeing the improvements and innovations they were promised.
And with the rising distribution cost of using OTAs, property managers are watching technology and marketing costs increase while innovation and tech support decrease.
As PMs learn more about the performance-based agreements between GSV and the companies it acquired, users are voicing concerns that overall technology innovation in the vacation rental industry will stall.
While communications from the companies purchased by GSV have been consistent, stating that nothing will change for users, a number of employees of the acquired companies—especially in sales roles—have seen compensation packages altered and have been actively putting out feelers across the industry for new job opportunities.
The truth is that we do not yet know
While GSV has declined to comment on its acquisition activities and plans for the future, the company has been public in casting a wide net in sourcing acquisitions. Over 15 vacation rental technology companies and service providers reported to VRM Intel that GSV has reached out to their teams with acquisition interests.
They even reached out with a blanket letter to VRM Intel: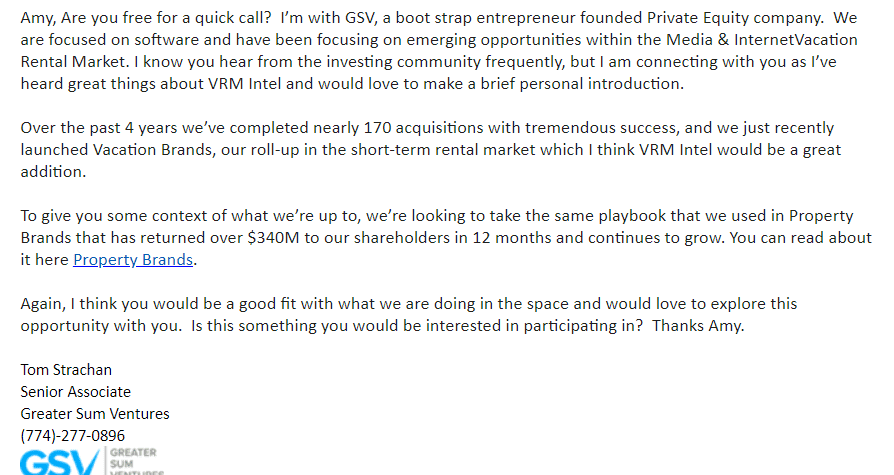 Companies report that, in preliminary discussions, GSV floats an early purchase amount, and then engages in an extensive due diligence process. However, several companies who have engaged in the process report that GSV ultimately "passed" on purchasing their companies.

In the absence of GSV sharing its objectives, the vacation rental industry is forced to speculate about its intentions. As a private equity company, it is safe to assume the goal is to sell. But with the market-leading position of the software companies it has purchased, the industry is left to wonder what will become of innovation in the sector.

Among professionally managed vacation rental professionals in the US, the choices for software and web solutions are limited. As more tech companies join the GSV roll up, managers will be watching closely to see how GSV maintains and supports the companies it has purchased.

<!-comments-button-->