This week Expedia-owned HomeAway announced recent changes to its revenue model for vacation rental managers. The new pricing and fee structure includes a 25 percent increase in the cost of listing subscriptions along with a new fee assessment for property management companies using "integrated software" systems.
In an email to vacation rental managers, HomeAway informed suppliers it is increasing subscription fees from $399 to $499 per listing. In addition to the pricing increase, for vacation rental managers using "integrated software" platforms, HomeAway will invoice an additional 10 percent fee for direct bookings made that HomeAway can attribute back to inquiries on their websites in a process being referred to by property managers as "match-back." Read the entire email here.
According to multiple vacation rental managers who are using software integrations, HomeAway will examine a vacation rental management company's direct bookings, "match" email addresses and inquiries conducted on HomeAway's sites "back" to direct bookings, and will invoice property management companies a fee which "will amount to 10% of the pre-tax total booking fee for direct reservations."
Update: HomeAway's Jeff Hurst discusses off-platform booking attribution
The policy is based on an assumption by HomeAway that any revenue derived from a guest who booked directly with a vacation rental company—and who had previously inquired on a HomeAway site—should be attributed to HomeAway, and HomeAway is entitled to ten percent of that revenue.
The changes will be implemented "for all new subscriptions, and for all listings with an annual subscription term that is set to renew on or after March 15, 2018…Renewals of currently-active subscriptions that are due to expire before March 15, 2018 will not be subject to off-platform booking fees until the end of their one-year renewal term."
The news sent vacation rental managers reeling.
One vacation rental manager on the East Coast tried to get more answers from HomeAway. "When the email came out this week I asked Homeaway for a preview of the new terms," he said. "I received a response that they weren't available yet. Honestly, no surprise there, but it would be nice to know the rules of the game in order to determine how we fit into this new model."
Another manager in Florida said, "Imagine if Expedia charged Hilton ten percent for all direct bookings in which a shopper also did a search on Expedia for the same dates!"
"These changes are a deal breaker for us," wrote a California-based vacation rental manager. "We will no longer be renewing or adding any new subscriptions and will allow all current subscriptions to expire. The changes seem like a desperate attempt to 'skin' the sheep (operators) rather than sheer the sheep in the face of either mounting competition or a flawed business model."
Expedia's Money Grab Since Purchasing HomeAway
Since Expedia purchased HomeAway in late 2015, the company has been aggressive in seeking to further monetize the HomeAway family of website marketplaces for vacation rentals.
On the same day that Expedia purchased HomeAway for $3.9 billion, it introduced a new fee for travelers that, according to then CEO Brian Sharples, "is expected to add an average of roughly six percent to most transactions that run through its online shopping cart."

Since then, the HomeAway has made significant changes, including inching up and testing guest fees, requiring online booking on the platform, eliminating the ability for owners/managers to communicate with shoppers outside the HomeAway website platform, removing vacation rental brands, phone numbers, and external links from listings, adding a comparative pricing tool and changing lodging rate policies for software users, rewarding "offer strength," changing the owner portal with direct owner communications, taking over the branding of PM guest apps, adding a "Premier Partner" program complete with a pledge to keep bookings on the HomeAway sites, and creating a search algorithm that rewards compliance of its policies.
As a result, while HomeAway is showing double digit YOY gains that are significantly contributing to Expedia's wellness, suppliers are questioning whether or not the company's growth pace is sustainable and are seeking out alternatives to reduce dependence on HomeAway.
Below is a hypothetical example of how HomeAway's pricing increase and new fees might affect a vacation rental management company with 250 homes under management and an average rental revenue per home of $38,000: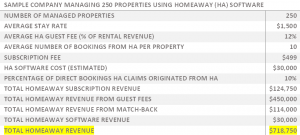 The data in the chart is based on generalized feedback from property management companies, not data provided by HomeAway.
In this example, under the new revenue model HomeAway would benefit from $718,750 in annual revenue from an mid-sized vacation rental management company using its software tools.

A number of property managers have recently distanced themselves from HomeAway in an attempt to regain independence from the Expedia-owned marketing channel. In a recent panel discussion at the VRM event in Wilmington, NC, leaders from several large vacation rental companies discussed their decreasing reliance on HomeAway's websites for bookings. One CEO told the audience that he had pulled all of his listings off of HomeAway's channels and saw a three percent increase in overall revenue. Of the twenty-two companies in attendance, only a handful still use HomeAway for bookings.

As a result of HomeAway's changes since Expedia's purchase of the company, several online forums have sprouted, including the Facebook group "Say No to VRBO Service Fee" with over 4,500 members who regularly discuss ways to decrease reliance on HomeAway's family of websites.

Update: HomeAway sent the following for clarification:

"We are charging 10% for bookings that originated with a booking request or inquiry that the traveler sent through HomeAway and that then convert into a booking. We are not charging a fee on bookings that are truly direct through the PM and not tied to any prior HomeAway booking request or inquiry."

<!-comments-button-->