Over the last decade the vacation rental industry's share of the lodging market rose from 8% to 20%, and online vacation rental bookings jumped from just 12% of the overall market in 2007 to 24% in 2012 (PhoCusWright).
Industry observers wondered how long the hotel industry would sit on the sidelines as a spectator watching the rise of the vacation rental industry before making a cohesive attempt to derail its success.
Apparently, not much longer.
According to Tnooz, the American Hotel and Lodging Association (AH&LA) announced Tuesday plans to attack the current practices of the U.S. vacation rental industry with a campaign to:
"highlight the bad, unfair and in some cases unlawful business practices employed by short-term online rental companies and the lack of parity between safety, security, tax, and other requirements for hotels and short-term online rentals." 
The campaign against vacation rentals is largely centered around two issues: 1) taxation & legality, and 2) health and safety.
Tnooz provides the following excerpts from the AH&LA communications:
In many markets, Airbnb and similar short-term online rental marketplaces are technically illegal, but lax enforcement of existing laws has allowed these entities to grow exponentially in size.
Their increasing popularity, together with unclear regulatory structures, has prompted many local governments to examine new ways to tax and regulate these companies.
Airbnb has led aggressive outreach programs in several cities, engaging local officials, agreeing to collect and pay some taxes, and pushing for favorable rewrites of local planning law.
To counter these actions, AH&LA is working to drive the short-term rental company debates. Our plan includes:
Together with our partner states, identifying target cities and localities where we can engage in select tax, safety, and health fights at the council level to pre-empt other deals being sought by short-term online rental companies
Creating a feedback loop at the federal level between Congress and federal agencies, and pushing legislation ensuring laws regulating hotels are applied equally to short-term online rental companies
Highlighting the tremendous innovation within the hotel sector
Raising enforcement concerns regarding the lack of compliance by short-term online rental companies with areas including provisions of the Americans with Disabilities Act, safety, occupancy rules, and tax reporting.
"We agree that short-term rentals should be in compliance with all local codes and tax requirements," said VRMA Executive Director Mark McSweeney. "However, we are concerned with the broad strokes with which many of these statements paint the short-term vacation rental industry.  The fact is, when managed by established and traditional vacation rental professionals, short-term vacation rentals create benefits to local economies via tax dollars and tourism revenue, generate jobs, and ensure safety and security for their guests and surrounding communities."
McSweeney added, "Regulations that create blanket limitations on short-term rentals unnecessarily inhibit local economies and the success of legitimate businesses like those of the members of VRMA. When legally zoned for hospitality business, established and traditional vacation rental professionals follow all regional tourism standards and tax requirements, much like a hotel would, which is best for everyone – travelers, homeowners, neighboring businesses and local governments."
Taxation and Legality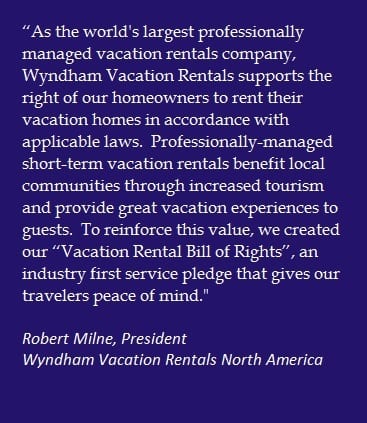 Although taxation and legality have long been issues in the vacation rental space, Airbnb has recently pushed the envelope on these issues in New York, San Francisco and Portland.
HomeAway approaches the market with a less adversarial tone.
"HomeAway welcomes partners who seek to help communities create fair and appropriate regulations for vacation rentals, and would agree with the premise that clear, community focused regulations are required." said Carl Shepherd, co-founder and Chief Strategy and Development Officer at HomeAway. "Outright bans of the activity, however, make no sense at all. While there is some crossover, HomeAway's vacation rentals appeal primarily to families and groups traveling together, who want privacy, more space, kitchens, and locations and experiences that hotels don't provide, just as the average short term rental may not meet the needs of travelers seeking the accessibility, location, and extras (maid and room service, spas, restaurants and other amenities) that hotels excel at delivering."
Shepherd continued, "In the end, history shows us that attempting to ban an industry may seem easier than adapting to address changing competition, but in the long run, the former has always failed, and the latter most often proves to be the winning strategy."
Steve Trover, president and CEO of All Star Vacation Homes which operates in Florida, California and Idaho, sees an opportunity to work with the AH&LA to create a fair competitive environment. "It is my opinion that we as professional managers should reach out to the AH&LA via the VRMA (Vacation Rental Managers Association) to align ourselves with the hotel industry where we can."
"Professional managers abide by zoning and tax laws and should be on the legal side of this argument," Trover continued. "We should encourage the AH&LA to further understand and embrace the professional side of vacation rentals while they rightly look to level the playing field where laws are ignored. We should encourage enforcement of existing tax and zoning laws and advocate for laws that are logical and allow for a robust but professional vacation rental industry."
Health and Safety
Over the last 15 years, a few vacation rental industry leaders and organizations worked to proactively establish standards for professionally managed vacation rentals. The Vacation Rental Housekeeping Professionals (VRHP) was formed in 1999 to put housekeeping standards and certifications in place to promote and maintain lodging safety and health among professional managed vacation rentals.
The VRMA and the CFVRMA also initiated certification programs designed to proactively give the vacation rental management industry a stronger ethical foundation and to provide guests with assurance that safety, health and legal guidelines had been met. The VRMA even explored the idea of working with the AH&LA to incorporate standards for their certification program but subsequently decided to keep the program independent.
However, the industry has been slow to adopt any self-imposed regulations.
New associations have popped up to to fill the gap, such as VRIA and OPMA. In addition, large software companies are providing user conferences aimed at education for professional vacation rental managers.
Benefits of the AH&LA Campaign
Despite its intention, the campaign provides notable benefits for the professionally managed vacation rental industry.

1. Further legitimizes the industry

The main benefit from AH&LA's anti-short-term-rental campaign is that it serves to provide conclusive legitimacy of vacation rentals as a viable lodging alternative to hotels.

"The Hotel Association campaign reflects a general trend of recognition by the traditional lodging industry that vacation rentals are more than a viable alternative to hotels," said Kirby Winfield, CEO at Dwellable. "As professionally managed vacation rental companies build meaningful brands, provide hotel-class cleaning, check-in, and concierge services, and market themselves through 'VR OTA's' like Dwellable, they're aggressively taking market share from traditional hotels."

2. Brings the taxation issue to the forefront

The campaign serves to provide additional education and awareness of the distinction between professionally managed and owner managed rentals, and helps to discourage owner managed vacation rentals from staying in the shadows, not paying taxes, disobeying government regulations, and harming the industry as a whole.

3. Encourages the industry to come together

"The campaign does highlight the relative lack of organization and lobbying clout on the part of a fragmented VRMC category," said Winfield.

With increased awareness comes an increased need to work together as an industry, put health and safety guidelines in place, and join forces to further increase gains in lodging market share. The AH&LA campaign serves to encourage vacation rental managers to proactively band together in their association(s) before they find themselves in a reactionary position.

"When legally zoned for hospitality business, established and traditional vacation rental professionals follow all regional tourism standards and tax requirements, much like a hotel would, which is best for everyone – travelers, homeowners, neighboring businesses and local governments," said McSweeney.

By Amy Hinote

<!-comments-button-->