Property managers and homeowners using Booking.com who haven't checked the site lately might be surprised to find a star rating on their property listings.
Booking.com has been slowly rolling out a global rating system for vacation homes—or an AI-powered classification system—as the company described it today at the Vacation Rental World Summit in Lake Como, where Booking.com's Alessandro Pacilio took the stage to show attendees around its latest product announcement.
Pacilio explained that there is still some work to be done and A/B testing is in progress. When we tested, the star ratings were displaying on mobile, but not on desktop. However, you can sort and filter by the new star-rating system using all devices.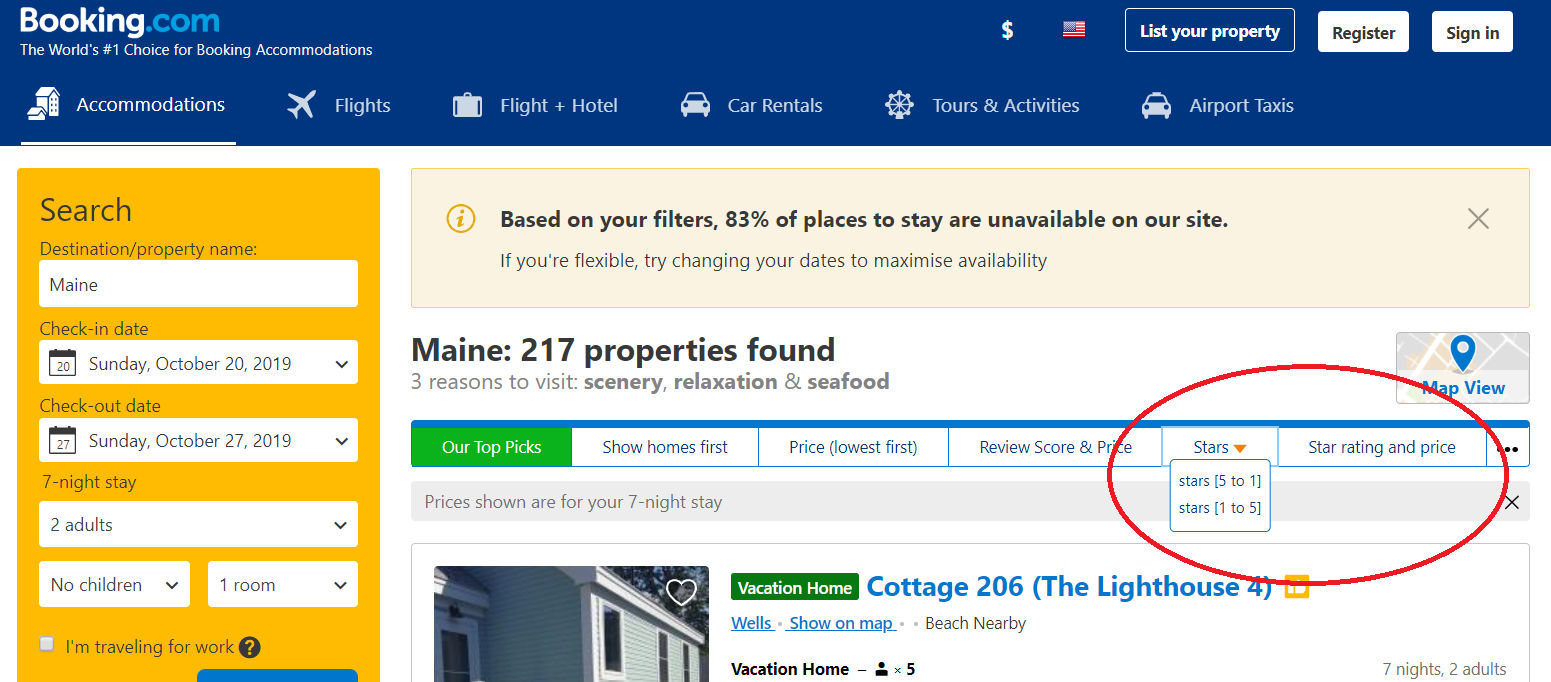 Booking.com describes ratings as follows: "Awarded to home and apartment-like properties by Booking.com. These represent quality ratings based on factors like facilities, size, location, and service" (see photo below).
The classification system is algorithmic and utilizes AI to further examine local property standards and adjust the star rating to more closely align to the local area.
This example shows a search flow for 3+-star vacation homes in Maine (note: there was only one 5-star home in Maine). In our search we found a range of property types, including the cottage and mobile home seen below.
We followed the cottage listing which is managed by TurnKey Vacation Rentals (here is the link to the same home on TurnKey's site). The 3-star TurnKey home is also listed on Marriott's Homes and Villas site.

The second photo gives a little more info about the rating, and the third photo above displays the differences between "Quality ratings" for homes and hotels.

An initial concern is that the rating system is designed to drive more bookings to hotels. At the recent Skift Global Forum, Dennis Schaal pressed Booking.com CEO Glenn Fogel on the lower margins of alternative homes vs hotels, considering regulatory issues, lower commissions, and supply acquisition costs.

Fogel responded, "The cost of dealing with it [alternative accommodations] is significantly higher on both sides [supplier and guests]. It is a less profitable business. The fact is people want to use it."

For property managers, if you want to check your properties' ratings, the info was more easily obtained on the mobile site, as the star ratings were not displaying on desktop in our research. However, PMs (and consumers) can filter by property type and star rating across devices.

If you have questions or concerns about the Quality ratings, Booking.com will be demonstrating the new global classification system at the upcoming Vacation Rental Management Association's International Conference next week in New Orleans.

<!-comments-button-->