The effort the big distribution players are putting into improving the conversion rates on their listing pages provides property managers with areas of opportunity. Through their research, they have identified criteria which are easier for a local provider to incorporate on their websites.
This is Part 3 of a series on Listing Pages vs. Property Pages
Part 1: Listing pages vs property pages: What do they know that you don't?
Part 2: Listing pages vs property pages: What we can learn from listing sites.
Resource: Property page checklist for vacation rentals
Here are five things which can make your property pages better than their listing pages.
1. Floor Plans
At VRM Intel, we preach floor plans on a regular basis because they work. We looked at data from several vacation rental management companies who use floor plans on a portion of their inventory and found an indisputable connection between increased nights, reservations and revenue with properties using floor plans. In addition, properties booked faster, as there was consistent evidence that homes with floor plans booked an average of 22 days faster.
2. Appealing titles and descriptions
Elizabeth Weedon's blog WeNeedAVacation.com has some good tips on creating titles and descriptions that sell. As vacation rental managers, it is difficult to add the "owner" touch to your rentals, but the effort pays off.
The Title
The title is important because it appears on the brief summary list of homes pulled by vacationers in their searches. So, be sure to single out the most attractive features to "sell" your home and ensure that viewers "click through" to see your full listing. Try to make it descriptive and appealing, easily accomplished by simply adding an adjective or two. Examples: "Spacious Waterfront Home Ideal for Two Families" or "Newly Renovated Cape – Sun, Privacy, Walk to Beach"
The Property Description
Most importantly, your description should include information about all three of the following:
The interior of your home, particularly highlighting any special amenities such as air conditioning, internet access, outdoor shower, linens provided, etc.
The home's immediate setting including the yard and neighborhood, and, of course, any desirable views
Your property's location and proximity to area attractions such as restaurants, shopping, bike trails, and, of course, the closest beach
3. Comparison shopping
With more normalized data comes a better opportunity to provide apples-to-apples comparison shopping for your guests. "Shopping carts" can easily be shared with friends and family allowing your guests to make a faster booking decision. Here is one from Century 21 Thomas North Myrtle Beach.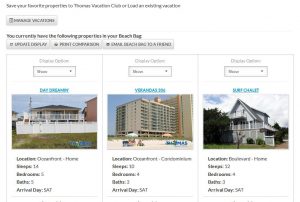 4. Response time
In a real-time world, guests don't want to wait hours or days for responses to inquiries. Response time is a major problem for HomeAway, Airbnb and FlipKey. As a professional, you have the ability to immediately respond to inquiries on your property pages and gain a competitive advantage over listing sites. Many vacation rental managers have implemented click-to-chat which allows you to respond live, keyboard-to-keyboard, to your guests.
5. Area attractions and neighborhood and mapping
No one knows the area restaurants, shopping, grocery and attraction locations better than a local property manager. Including this information on your listing pages will improve your conversions. Airbnb, HomeAway and FlipKey are in the early stages of incorporating this info on their listing pages, but they have a long way to go before they are able to aggregate restaurants and attractions all over the world. Monetize your local knowledge.
Tip: Contact your CVB. They may have already done the work for you. 
6. Data capture
Ecommerce companies such as Amazon and Zappos have become religious about monitoring and collecting data for prospective customers. Through abandoned shopping carts, user surveys, subscription sign ups and special offers, the ecommerce industry prioritizes data gathering from shoppers who have not yet purchased.
These primary data points can be collected through:
Subscription sign up
Special offers
Comparison shopping tool
Customer sign in
Call center
Here is a data checklist for prospective guests.
Property pages checklist for vacation rental managers
Here is a quick checklist for making sure property pages are optimized for conversion: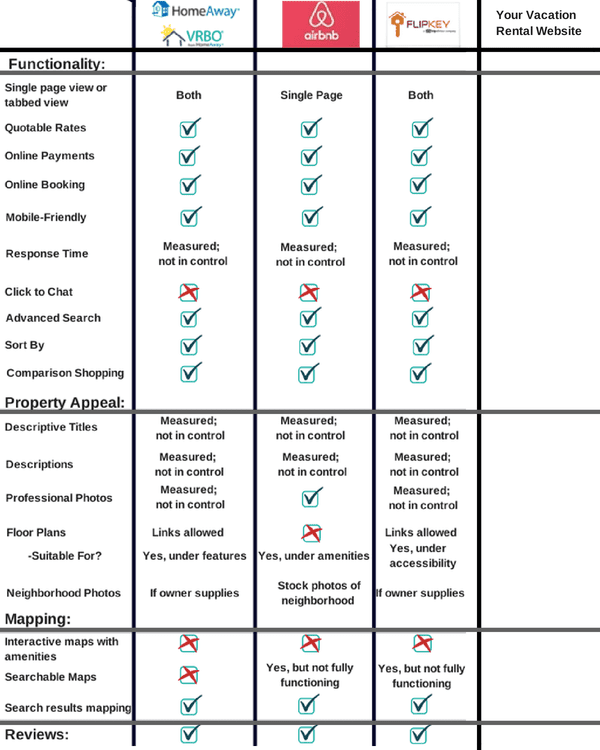 By Amy Hinote

<!-comments-button-->