Anthony Bourdain, Rick Steves and Lisa Ling have a new colleague in their midst…Matt Landau.
This month vacation rental expert, world traveler, and rising star, Matt Landau, launched a beautifully produced digital series titled "Sense of Place" which takes travelers through the unique experience of staying in vacation homes as a lodging alternative.
Travel adventurers, get ready for an insider-led tour of vacation homes around the globe.
With thirteen episodes in the first season of Sense of Place, Landau taps into local knowledge and insider insight that respectfully demonstrates both the history and the culture of a destination most tourists never get to see.
While Airbnb and HomeAway have been touting the value of vacation rentals with their mass marketplaces, Landau's Sense of Place truly captures the vacation rental experience by interacting with home rental providers and letting these managers lead him to local secrets that even the best hotel concierges cannot offer.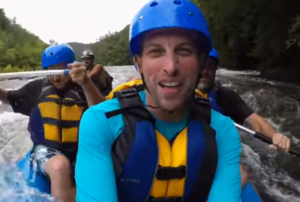 Landau begins the show with his mission: "The term 'vacation rental' can mean a lot of things, but at the core it is a movement unlocking a whole new way to travel. For years, I have immersed myself in the community of people leading this movement. And now I would like to share their stories as we discover hospitality at a whole new level."

As Landau was looking to produce Sense of Place, his vision originated with a desire to spotlight the uniqueness, independence and individuality that vacation rental professionals offer in their local environments. Landau was approached by several TV studios who wanted to jump on the vacation rental bandwagon and produce his travel show. However, the studios wanted full control of the content, which Landau found stifling.

"What makes the vacation rental industry different from most is our passion," said Landau. "And while the idea of a show got me really excited, having a studio tell me what I could and couldn't say seemed way less fun. Passing on those offers ended up being quite the blessing, though. They helped form a vision for the kind of show that I would really enjoy and that would do our industry proud."

Sense of Place partnered with Asombro Media, LiveRez and Abundle to produce season one which includes episodes featuring Barcelona, Marbella, Rome, Le Marche, Guardea, San Diego, Kauai, Blue Ridge, Carolina Beach, Nashville, Anna Maria Island, Seattle, and Sayulita.

"Doing the project this way embodies the DIY spirit of the vacation rental industry—of using every means possible to grow, without compromising our values and our independence as small business owners."

With all of Landau's experience in working with vacation rental providers, it was surprising to hear what he learned along the way.

"Launching a digital show was really daunting for me, but the more I learned about the new entertainment landscape, the more I saw that you don't need to go the conventional TV route anymore in order to reach lots of people," said Landau. "Today, people watch what they want when they want. And a show that is always available online creates a new kind of ongoing dialogue with viewers. Being consistently present—and being able to do things on our own terms—is almost like a new frontier. This show is both the most enjoyable and the most challenging thing I've ever done."

Landau has found a true calling in producing this series, and travelers are better off as a result.

Sense of Place is already in talks for a second season.

<!-comments-button-->