"I have seen a 75% drop in page views over last year."
"I have a calendar that is WIDE OPEN. for the first time ever."
"Has anyone else experienced such a low rental season?"
"My page views and inquiries are down 75% and 50% respectively over last year."
"There has been a considerable drop in inquiries since it started at the tail end of last year."
Both vacation rental managers and individual homeowners are reporting a significant drop in the number of inquiries and bookings coming from HomeAway causing many vacation rental suppliers to look for marketing alternatives.
In what can be considered a perfect storm, HomeAway inquiries have dropped for a number of reasons:
HomeAway's traffic has declined as a result of SEO issues.
Google's changes to AdWords have caused CPC to increase and impressions to decrease.
HomeAway's Best Match algorithm has resulted in the number of inquiries for many homes to decrease, at least short-term.
The addition of Traveler Fees/Service Fees has caused prices to go up and demand to go down.
1. HomeAway's SEO Issues
In the travel industry over the last two months, search engine marketers have reported that OTAs are seeing a jump in CPC (cost per click) and a downward trend in CTR (click through rate).
HomeAway, in particular, was aware that changes were coming to SEO that would negatively impact their traffic. In November of 2015, the Securities and Exchange Commission filing detailing Expedia's then proposed purchase of HomeAway revealed an interesting statement regarding changes in search engine performance:
"On October 1, 2015, the HomeAway board of directors held a special telephonic meeting in which Mr. Sharples reported on a recent change in the search algorithms of a leading search engine and the potential for such a change to impact HomeAway's business. The HomeAway board of directors discussed that this change would require an adjustment in anticipated marketing expense in management's preliminary analysis of the subscription and transaction-based revenue model."
As a result, HomeAway made a number of adjustments to the assumptions underlying their initial projections, including annual visits growth deceleration (due primarily to SEO reduction) in fiscal years 2016, 2017 and 2018.
Google's recent algorithmic updates have been shown to negatively impact listing and directory sites while promoting local sites and content. However, HomeAway – in particular –saw an above average drop in traffic. When HomeAway announced that it expected to see a tick down in organic traffic, several marketers looked to the updates to see if changes would affect all vacation rental listing websites. As HomeAway's organic traffic began to decline, speculation arose that HomeAway.com had been penalized by Google.
Conrad O'Connell, Digital Marketing Director at InterCoastal Net Designs (ICND), noticed changes with HomeAway's ranking. "Searches in many of my clients' main areas indicate that HomeAway has dropped out of the search results in lots of popular areas…For many vacation rental owners, marketers and managers, HomeAway dropping out of the Google search results would make a huge difference to their website traffic."
O'Connell did some research to see what had impacted changes to HomeAway's drop. "After doing some digging, I am pretty confident I have the answer," said O'Connell. "HomeAway.com was not penalized by Google. Instead, the reason for the drop in many search results was something much more simple (and completely self-inflicted). HomeAway told Google to not crawl certain pages."
O'Connell concluded, "Based on my sleuthing, HomeAway was using these links on tons of various internal linking structures throughout their website. As a result, their most popular pages (like to Deep Creek Lake, North Myrtle Beach and tons of others) are getting noindexed and blocked by Googlebot. It appears that HomeAway has since removed their robots.txt rules, but the recovery may be slow as search engine crawlers take a while to reindex results."
2. Google's AdWords Changes
SERP One, of Google's more significant changes, is the new format for their SERP (Search Engine Results Page). To summarize, Google eliminated the right sidebar of ads and added a fourth position at the top for "highly commercial queries" (like hotels and vacation rentals), pushing organic results further down the page, and in most cases, below the fold. For organic search, it was quite a blow, but for OTA's the impact on PPC was significant as well.
By changing the format of the SERP and eliminating the right column of ads, fewer positions will be displayed in the first page, resulting in skyrocketing CPC and lessened paid real estate on page 1.
In the end, fewer AdWords slots means the average CPC for the first page has increased and HomeAway is paying more for being on the first page, achieving less impressions and consequently less chances to achieve a conversion.
3. HomeAway's Best Match Sort Algorithm
On October 29. 2015, just days before Expedia announced the purchase of HomeAway, HomeAway initiated a new sort algorithm called Best Match. Previously, search results were determined by subscription level followed by a listings' quality score. The new system determines search position within a subscription level, placing the listings in front of a traveler that are most likely to result in a booking.
According to HomeAway, "Best match is a sophisticated process that looks at traveler preferences as well as the booking experience a listing provides to place listings within search results. Listings are first placed within their subscription level (as applicable) in search results and then sorted based on the best match for the traveler and their search to optimize bookings for property owners and managers. Best match is also used to determine the optimal placement of pay-per-booking listings throughout the search results."
The goal of Best Match is to convert quickly. According to HomeAway COO Tom Hale, "It is true that conversion is critical to Best Match – within tiers (Platinum listings sort above Gold listings which sort above Silver, and so on). And it's also true that if you do not have online booking enabled, or if you do not have alternate payment methods enabled, the system cannot know if your listing is converting or not. So you are well advised to make sure that the system can give you credit for conversions."
Hale continued, "Our goal is to get bookings. Service fee enables Marketing spend. Marketing $$ enables more traffic. Best Match makes the conversion of that traffic on our site better."
However, the Best Match system potentially drives traffic away from properties that already have a lot of bookings, properties that are not online bookable and properties that do not have a high percentage of "accepted bookings." For homeowners and managers who steer bookings off of the site, Best Match will drop the home in search results.
According to Hale in a response to a homeowner, "Your bookings will come —- PROVIDED you have nights to sell AND provided we have good signals about your property in best match. If you are not taking bookings, and we can't see your performance on the site, all bets are off. But assuming that you are working hard to succeed in best match, the algorithm will deliver you demand LATER in the year than you expect. But it will come."
4. Addition of Traveler Fees/Service Fees
When HomeAway decided to mimic Airbnb's pricing model by incorporating a Traveler Fee, HomeAway's suppliers raced to forums and social media to express their discontent. As one owner said, "I had a significant drop in inquiries prior to the service fee – the service fee was just the nail in my vrbo coffin."
The HomeAway Traveler/Service Fee tacks on an additional fee, paid by the traveler, to bookings made on the HomeAway family of sites. Below is a chart showing how traveler fees are calculated.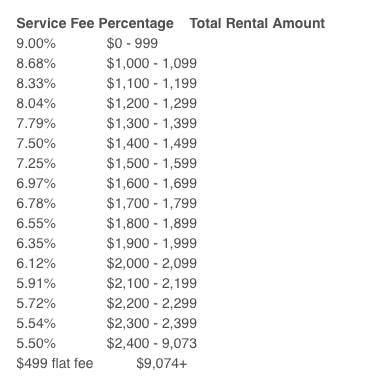 HomeAway CEO Brian Sharples explained, "The reality is that we're re-investing the majority of this money into marketing to bring in more travelers (we nearly doubled marketing spend with the introduction of this fee) and to provide true financial guarantees that can protect and help travelers who have bad experiences from using our sites. And we're also more than doubling our investment in government relations efforts to continue fighting for the rights of property owners all over the world."
However, unlike the majority of Airbnb's inventory, HomeAway's inventory of second homes are typically listed on multiple channels, and pricing for each home is carefully set based on market conditions (i.e., supply, demand, seasonality, events, etc.).
The HomeAway Traveler/Service Fee ignores any pricing sensitivity in the marketplace. This fee burdens consumers with a five to nine percent increase in the cost of their vacation rental at a time that hotel and resort prices are becoming more competitive.
The number of bookings and inquiries from HomeAway will likely continue to decline if 1.) There is more price sensitivity in the market than HomeAway realized, or 2.) Consumers realize they can compare pricing and choose to book via another channel.
What is coming? Beware. 
A few months ago, Booking.com announced to its hotel customers that it would stop providing the hotel with the guest's email address as part of the booking confirmation process. Booking.com cited security as the key reason for the change.

In the hotel community, there is heavy speculation that the other OTAs will also decide to cease passing on guest email address. If their predictions are accurate, an Expedia-owned HomeAway is likely to follow suit.

<!-comments-button-->