Today Priceline.com CMO Brett Keller addressed attendees at the 2014 LiveRez Partner Conference in Boise, ID and talked about branding, increasing conversion rates, creating urgency and improving content.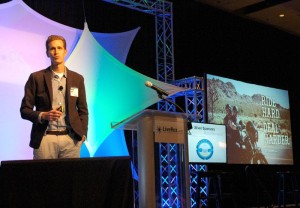 Branding
Pointing to Priceline's William Shatner campaign, Keller emphasized the value of consistency and staying true to your values, and he laid out four lessons from Priceline for branding:
Stand for something
Deliver real value
Differentiate yourself
Be consistent everywhere (in collateral, imagery, on the website, in emails, etc)
Increasing Conversion Rates
"We spend a lot of time getting people to the website, but once they get to the website, the website takes over," said Keller. "With hundreds of thousands of visitors a day, a small percentage improvement in conversion yields big returns."
He gave attendees four things to remember in eCommerce:
The results are near real-time
Infinite testing is possible
Opinions don't matter
Consumers vote with their clicks
Keller said at Priceline they spend considerable time and effort testing for better conversion. "With as quickly as the environment changes, sometimes aggressive testing is necessary just to maintain current conversion rates," said Keller.
"If you can't afford to test, copy," said Keller
He explained that OTA's are spending a ton of money testing and optimizing pages for conversion. By watching the changes they make on property listings and in the booking path, a VRM can take advantage of their conversion strategies without breaking the bank.
Creating Urgency
"Urgency equals any copy on your website which makes the customer feel like the opportunity is disappearing," said Keller.
He pointed to several examples about how they create urgency their websites.
Add words to rating (e.g. Wonderful, Great, Very Good, Excellent, etc). "we found that adding one word next to the rating improved conversion," said Keller.
Adding copy such as "32 people have booked this property in the last 48 hours" creates a deadline in the mind of consumers
Use the price slash (strike-through)
On the booking quote/rate display page, use copy such as "This property is likely to book in the next ___ hours."
Photos and Content
He also reminded property managers that large, professional, high-quality photos are a key component in booking conversions, especially "large exterior photos, pools, and beautiful rooms."
And the bigger the better. "Some photos are being loaded to extend the width of the desktop."
Keller used examples from Airbnb, and pointed out that in vacation rentals customers are drawn to faces. He showed Airbnb's listings with the owners' faces and recommended using this tactic on property pages.
Keller gave the following tips for optimizing property pages for the customer:
Content really matters
Great photos sell
Highlight brand strength
Partner with the best listing sites
Test creativity across channels
By Amy Hinote

<!-comments-button-->