On February 7—for the first time in the history of the vacation rental industry—property managers and homeowners came together in a grass roots effort to promote the advantages of booking vacation rentals direct.
The idea for the campaign originated through a discussion between several large vacation rental management companies located across the US exploring ways to educate consumers. By joining with vacation homeowner groups, the #BookDirect campaign was able to directly communicate with approximately 3 million travelers and had an overall reach of over 18.4 million consumers through email and social channels.
"I think the timing of this campaign is impeccable," said Tim Cafferty, president at Sandbridge Blue Realty Services and Outer Banks Blue Realty Services and co-founder of the popular podcast Sea to Ski with Sarah and T. "The message has resonated with consumers and vacation rental managers alike."
April Salter, chair of the Association of Vacation Rental Operators and Affiliates (AVROA) and founder of the Facebook forum Say No to VRBO Fees said, "[Vacation home owners and managers] are a creative and determined group, and they're excited about putting advocacy into action."
"For the past several years, there has been mounting frustration that they've expressed to each other," Salter added. "Yesterday was a chance to shout out to the world that booking direct is better for owners and managers and for guests. This was a chance to work together to get out the message."
For vacation rental managers and owners, the #BookDirect movement is not a one-time pitch. Instead, it is a launchpad for an ongoing campaign to let travelers know:
When travelers book on large vacation rental websites like Airbnb, VRBO.com, and TripAdvisor, they are paying substantial fees to use these sites.
Many of the best homes are not listed on these websites.
Managers and homeowners know the properties and the area better than anyone and can better match travelers to homes and help plan a better vacation experience.
Travelers can find out about special offers that can't be found on the big websites.
Managers and owners can better help guests optimize dates and budgets to fit their needs.
Mike Harrington, president of the Vacation Rental Managers Association (VRMA), owner and president at Topsail Realty Vacations, and founder at Carolina Retreats, has been a longtime advocate of industry-wide education. "At VRMA educational events, finding new avenues of marketing—both direct and through listing and third-party sites—have been some of the most requested topics at any event," Harrington said. "With our industry now squarely in the spotlight of the mainstream travel sector, continuing to market your local brand and what makes each location and company unique is becoming more and more of a challenge. Finding ways to highlight and educate travelers of the intimate knowledge that you offer of a unique property and area is something that everyone in the industry should want us to promote in order to elevate the guest experience that is so important to the long-term health of the vacation rental industry."
Vince Perez, vacation homeowner, manager and founder of Fetch My Guest agreed. "Guest education is important because travelers appreciate and expect transparency when making important vacation decisions."
Related: Expedia CEO discusses HomeAway's 2017 performance, match back, and relationship with suppliers
Perez added, "We believe it is important that travelers get the best value for their vacation dollars. We don't believe charging them hidden fees on vacation rentals that will drive up their cost by hundreds of dollars is the answer. This effort gives the vacation rental professional community a voice in educating the travelers on what is taking place and how it impacts the market….and their pocket book."
Takeaways from the #BookDirect campaign
1. Travelers are largely unaware that the large vacation rental websites charge them fees to use their sites.
Unlike the hotel industry in which booking fees are paid by hotels, these large listing sites are charging guests for the use of their online catalogs. And the charges are not insignificant with an additional 6 to 18 percent surcharge added to the rental rate, which translates to consumers paying hundreds of dollars more just to use these big websites.
"For months we have had customers calling us confused and frustrated by not being able to communicate directly with us." Perez said. "To add insult to injury, we have to explain the 'extra charges' are being paid to the OTAs. Travelers are smart. They know value and what part of the value chain we play in it. We just need to educate them before they book."
2. The frustration vacation rental providers are experiencing in working with OTAs and listing sites is real.
Vacation rental owners and managers are increasingly disheartened in trying to work with OTAs and listing sites. The frustration stems from the increasing and ever-changing revenue models and the elimination of their ability to communicate directly with travelers in the booking process. In contrast to hotels, vacation rentals are a more considered purchase for travelers which neccessiatates more Q&A between vacation rental providers and rental shoppers.
According to Heather Bayer, vacation homeowner and manager, founder of Cottage Blogger, and founder of the Vacation Rental Success Summit, "We are a movement they cannot ignore. Disruption can occur at any time, and it often starts with a rumbling of dissent. When this grows into a roar, we'll be heard, not only by the OTAs, but in the heart of our market—our travelers and guests."
Bayer added, "Today is only the start. What may be a rumble now will become a crescendo before too long."
3. Vacation rental owners and managers are able to join together and act.
In less than 4 weeks—and with a $0.00 budget—vacation rental owners and managers were able to quickly and effectively mobilize in a grass roots effort to reach over 18 million consumers with a cohesive #BookDirect message using only social media and email.
According to Steve Milo, founder and CEO of VTRips, "HomeAway and Airbnb will soon realize they do not have the power in the vacation rental space that they think they do. Given the dynamics of far more demand than supply, the power in this relationship is with owners and property managers with exclusive inventory."
Heather Bayer echoed Milo's sentiment, "Demand for vacation rentals is rising as this type of accommodation becomes a mainstream choice. Supply is critical to this trend so it's important for travelers to know that the OTAs don't show all the inventory. Giving them the information on where to find the best accommodation at the best prices…and with the best people—the owners and managers—is what they need to create the best vacation experience."
As investors and analysts examine the vacation rental industry, it is worth noting that the "supply" is controlled by individuals and local, independent property managers who are capable and accustomed to voting with their feet.
"It's been exciting to see the newsletters, posts, images, and tweets that they've developed and are sharing across their networks," April Salter said. "I think the message to OTAs is that vacation rental owners and managers have a voice, and they intend to play a major role in shaping the future."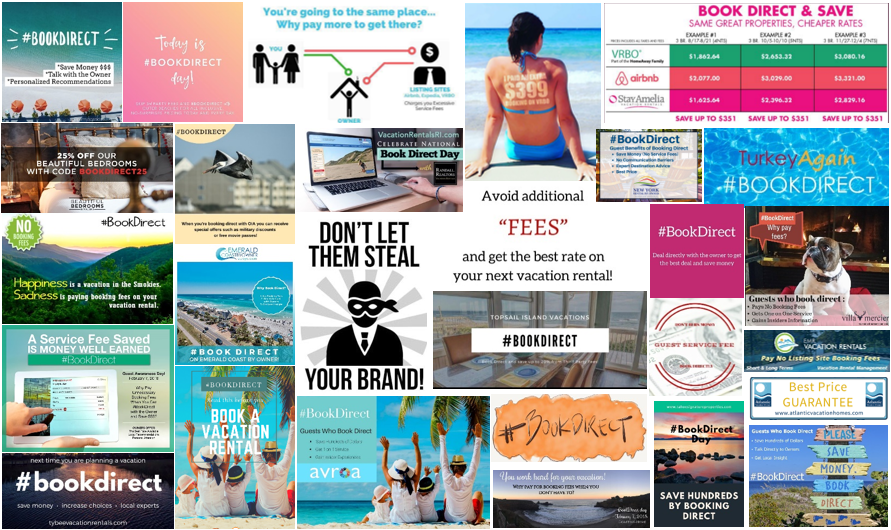 <!-comments-button-->