What if the Only Website You Ever Needed for Travel Booking was Google.com?
Related: Before you read this, check out: Google Adds Vacation Rentals
By Susan Blizzard — Believe me, I run a web-based travel agency, and I'm not advising that you ditch your website. However, Google is positioning itself as the only website you need for anything, including finding a place to stay. Let me explain with a bit of history.
History of Google Hotel Ads
More than seven years ago, Google introduced the Google Hotel Finder, which today is called Google Hotel Ads. Google Hotel Ads are a type of ad users can create on Google. For those familiar with Google AdWords (now called Google Ads), Google Hotel Ads were never an option. Hotel ads had only been available via the Google Hotel Ads dashboard and not on the regular Google Ad dashboard. These ads display on Google Maps like this: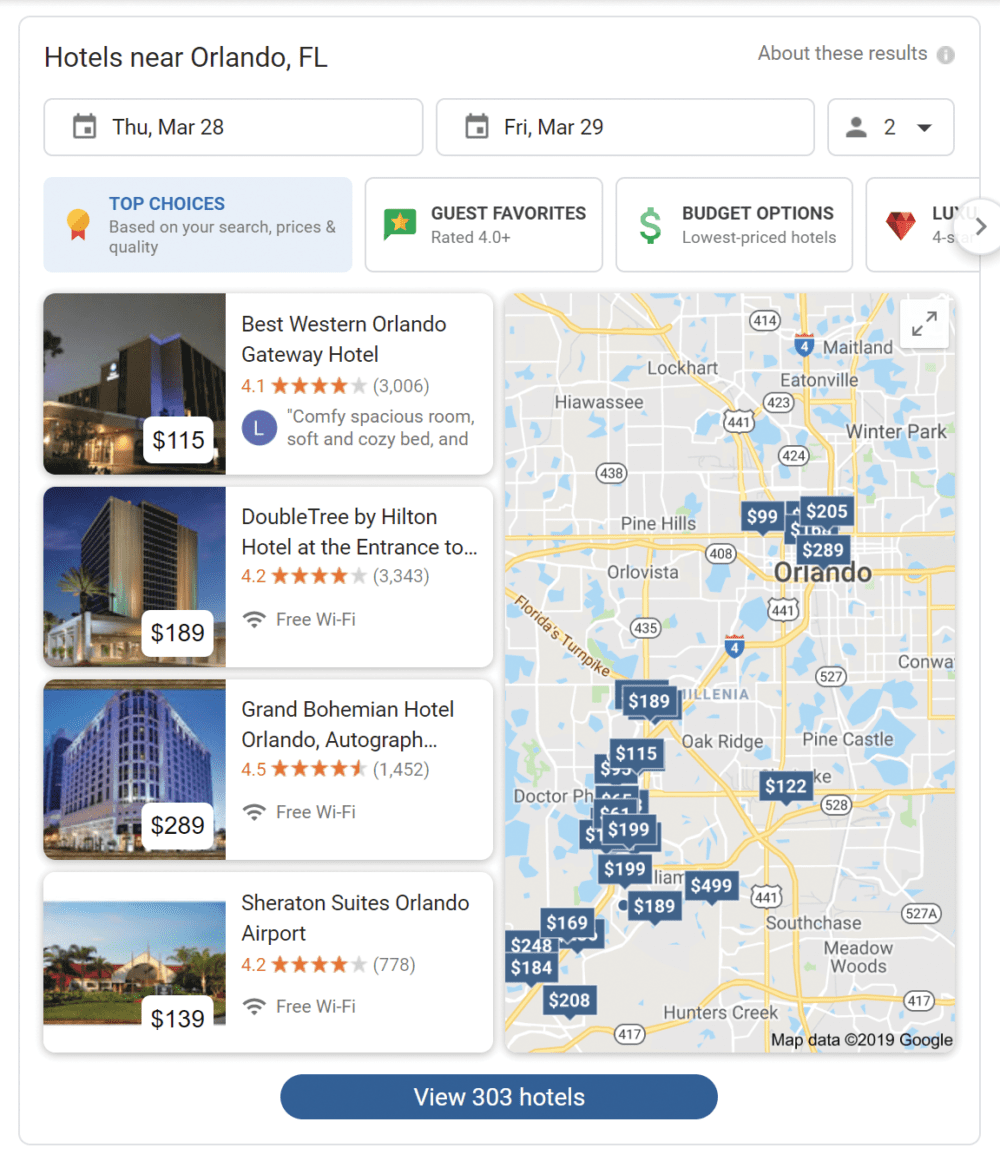 Hotel ads can be highly productive for participating hotels. Instead of paying Google per click and hoping clicks turn into enough bookings to justify the amount spent on ads, hotels can pay for these ads based on a percentage of bookings. That means hotels pay only for the bookings they receive. We see clients paying up to $3,000/mo. to Google for traditional Google ads, plus the amount that they pay to someone (employee or agency or both) to manage these ads. The question is, which of these options is better:
| | |
| --- | --- |
| Pay | Receive |
| Pay $3,000/mo. to Google + pay for someone to manage the ads. | Uncertain number of bookings |
| 10 percent of booking | $10 in bookings for every $1 spent |
The answer lies in how well your Google Ad campaigns are producing now (keeping phone bookings and assisted conversions in mind) and how much risk you want to take that you get those bookings in the future.
Google Hotel Ads highlight hotels in an effective way. Of the 385 million Google results for Orlando hotels, only 304 hotels are listed with Google Hotel Ads. In other words, the list of results is narrowed down by 99.99 percent.
Here's what that looks like today. In most cases, when a traveler clicks Book a Room, they are presented with booking options from multiple online travel agencies (OTAs).
Hello, Book on Google
The user experience of showing multiple OTAs was not the goal for Google. According to , "Google does not want to be yet another price-comparison site but rather the main searching, decision-making, and even booking point." For this reason, in 2016, Google launched its Book on Google option. Book on Google is a program that allows a traveler to book a hotel without ever leaving Google. That means that the traveler doesn't go to a separate website such as the hotel or an OTA website.
This is what it looks like: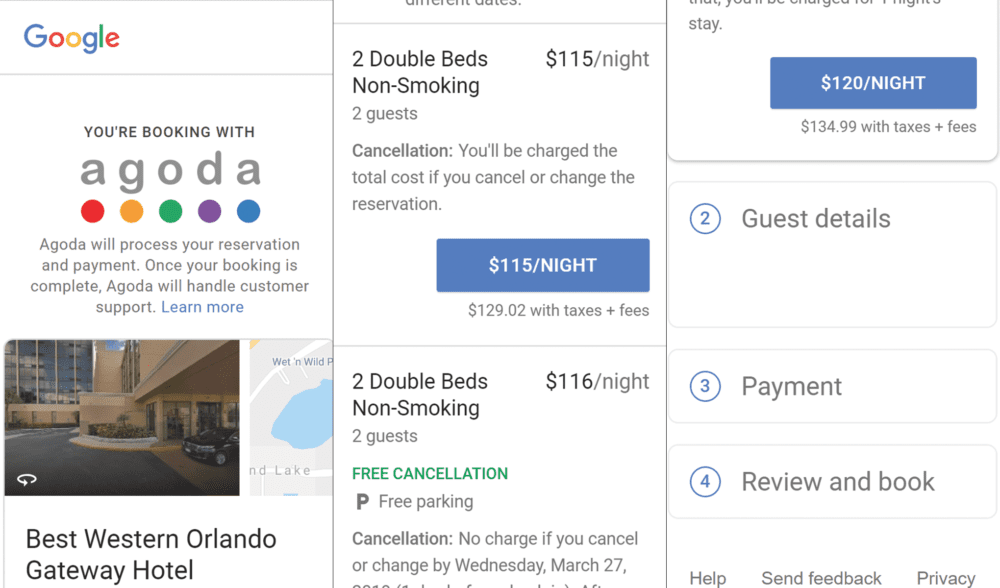 What About Vacation Rentals?
For years, our vacation rental clients at Blizzard have asked us how to get their vacation rental properties onto Google Maps, just like hotels. However, it is not simple to do. It requires tech work to send accurate hotel room prices for certain dates used in the ads. Additionally, Google prefers to work with extremely large sources of data over large geographic regions. That means that the only way for anyone to participate in Google Hotel Ads, at least in the beginning of the program, was to do that via an OTA like Expedia or Booking.com.
Even if a vacation rental company had used an OTA, the differences between vacation rentals and hotels was so large that getting vacation rentals onto Google Hotel Ads was not a viable prospect. For one thing, a hotel has multiple rooms available at one geographic location. Google Hotel Ads were not designed to have only one bookable property per geographic location. For another thing, rates for vacation rentals often were by the week rather than by the day. This made pricing a challenge. Also, many vacation rentals cannot be booked for shorter stays. The length of stay requirements at vacation rentals made booking with the Google Hotel Ad program difficult.
Regardless of whether a booking is made directly on Google or through an OTA, the main things to accomplish from Google's point of view are as follows:
Ease of Use
Accuracy
Efficiency
Connections with as few sources as possible (which helps achieve points 1–3 above).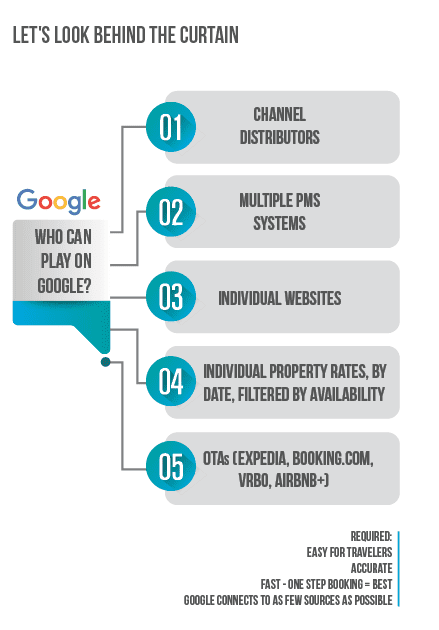 From a bird's-eye view (or from Google's point of view), the data that Google displays is housed in different sized collections. The smallest collection is the data for an individual property. Data for several properties are available on a property manager's website. Next, there is customer data housed on a property management software company's website. However, the amount of data stored on an OTA like Expedia, listing sites like VRBO.com, or global marketing engines like RedAwning, is a collection larger than any one property management software company holds.
Present Day
That brings us to the present day. Google has been extremely clear that it is interested in getting vacation rentals onto Google Maps via the Google Hotel Ads platform. In fact, Google launched vacation rentals as bookable choices in Paris and Rome more than a year ago. As Google likes to do, this was done as an experiment. If you go to Google and search for "Paris vacation rentals" you will see individual rentals with prices per night that you can book. However, the experience is not so great. When you click "book," the site shows you multiple OTAs you can book through, with prices, just like they are shown for hotels.
If you click on a rental property's website, in most instances, you are directed to the main company website where you must search again for the unit you had already chosen from the map.
Since launching bookable vacation rentals in Europe, Google has been actively working on a new, better way of booking vacation rentals in the US. While this program is still in beta form, we can say a few things for sure. Google will focus on the things that make the traveler's booking experience as easy and fast as possible. That means Google is not likely to get property data from your website. Instead, Google will connect to a large data source such as an OTA, a channel manager, or possibly a multistate or multinational vacation rental company. As with all things Google, the companies that can provide travelers with an easy booking experience are likely to do the best with this new type of Google Ad.
What Does the Future Hold?
What the future holds is the most interesting question of all. Because OTAs already get a significant amount of bookings from the billions they spend with Google, will this just be another type of Google Ad for them? Will that increase their overall ad spending with Google, or will they simply redirect a portion of their budgets to this new form of ad? Because there will be more companies competing for these types of ads, and because the ads are likely to be helpful by showing the location of the rental property on Google Maps, will this increase the overall amount spent on Google Ads for each of the companies that participate? If the amount that is spent with Google increases, who will pay the additional price? Will the traveler pay the price, will it be passed to the property manager, or will there be enough competitive pressure that OTAs decide to absorb the extra cost?

The answers to these questions will be revealed over time. However, there are a couple things we know for certain. One is that Expedia is not comfortable with the direction in which Google is going. (Expedia's Barry Diller Calls on Google to Be Regulated [Sean O'Neill, Skift—Oct. 16, 2018 5:58 p.m.]) Another is that this additional "Google channel" is bringing new opportunities to vacation rental managers that were not previously available. It's a time of great change in the vacation rental industry, and 2019 is destined to be yet another interesting year.

<!-comments-button-->