For industry participants and analysts, it is difficult to understand why TripAdvisor is not leading the fast-growing vacation rental sector.
When TripAdvisor entered the vacation rental industry with their acquisition of FlipKey in 2008, TripAdvisor had everything they needed to control the vacation rental space, including brand recognition, funding, technology expertise, control of reviews, and built-in relationships.
As one insider said, "It was ours to lose."
For an interesting historical perspective, Tnooz published an article in 2009, in which TripAdvisor and HomeAway CEOs traded barbs about the direction of their marketplaces.
But even with all of their advantages, TripAdvisor has struggled to stand out as the leader in vacation rentals.
Part 1: TripAdvisor Issues: What's going on with TripAdvisor?
Part 2: TripAdvisor Issues: More support issues, rate parity, discriminatory policies, and the negative impact for vacation rental managers
Part 4: Response from TripAdvisor to issues and vacation rental managers unite to address concerns
Click here to get a pdf of the combined series of TripAdvisor Issues articles
Comparing TripAdvisor, HomeAway and Airbnb
Over the last few years, TripAdvisor Vacation Rentals (TAVR) has grown from 160,000 listings to 720,000 listings since 2011.
The chart below compares vacation rental listing growth with HomeAway and Airbnb.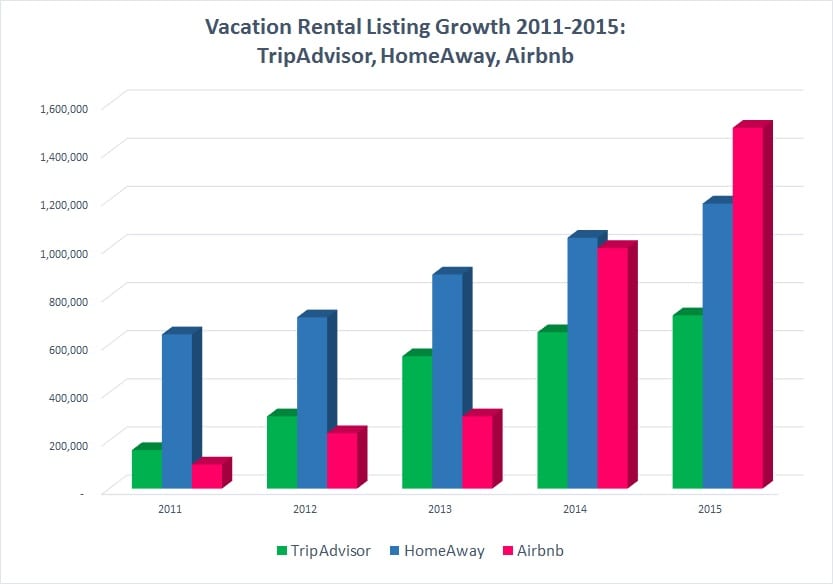 In 2015, while HomeAway remains on focused private whole home vacation rentals, both Airbnb and TripAdvisor are attempting to address both whole home vacation rentals and shared space short term rentals.
There are key differences between Airbnb and TripAdvisor Vacation Rentals.
1. Airbnb offers a single, uniform transactional pricing model for vacation rental managers, individual homeowners and hosts offering shared accommodations.
TAVR offers different pricing models:
For professionally managed vacation rental homes:
Subscription (negotiated between TAVR and PMs)
Pay Per Lead (a model HomeAway phased out this year)
7% transactional model
For individually managed homes and hosts offering shared space accommodations, TAVR implemented the same transactional pricing that Airbnb offers (3% + a Guest Fee).
2. Airbnb first solidified its core market of hosts offering shared private residence accommodations before adding resources to work through technology initiatives to attract professionally managed homes. In contrast, TripAdvisor is simultaneously overhauling its technology platform, moving into Airbnb's shared space, and trying to manage support and service issues for owners and managers with a bootstrapped team.
3. Airbnb's competitive advantage in the shared accommodations market is that hosts do not have many alternatives for listing shared accommodations. In contrast, professional vacation rental managers have several other viable options, including HomeAway, Airbnb and others.
TripAdvisor's Corporate Direction with Vacation Rentals
Even with the fast growth in the vacation rental industry, TripAdvisor CEO Stephen Kaufer sees building its attractions business as a more appealing sector (outside of hotels).
In TripAdvisor's Q2 2015 Earnings Call, Kaufer said, "Our three-to-five year growth initiative is to further improve the user experience by helping more consumers around the globe find and book attractions, restaurants and vacation rentals and to reinforce our leadership position in these categories. Perhaps, our biggest opportunity to do this is in attractions."
Kaufer also said:
In vacation rentals, our ongoing shift to a transaction-based model continues to progress nicely. Users can choose from more than 720,000 properties and we continue to focus on adding more high-quality inventory. We're also in the process of refreshing our owner center, creating a simpler, more engaging and unified experience.
The financial benefits continue to shape up nicely as transaction revenue accounted for more than 50% of our Q2 vacation rentals revenue. We like where we are in our shift to the transaction model as it is beneficial for travelers and homeowners alike.
So we expect the hotel space to migrate towards transaction, but where I see vacation rentals being in the future, I would expect it to be almost all transaction oriented. I think hotels will remain split for the foreseeable future.
Competing with Airbnb in Shared Accommodations
TripAdvisor is now shifting to courting the lower-end shared home space in an attempt to compete with Airbnb, as reported last week by Skift.

According to Dennis Schaal at Skift, TripAdvisor's "Flipkey unit has been quietly adding Airbnb-style room rentals to its existing portfolio of vacation rentals."

Commenting on the initiative, TripAdvisor spokesperson Laurel Greatrix told Skift: "This is a very recent addition and it means that any homeowner, anywhere in the world, can now list their spare room for free through TripAdvisor Vacation Rentals (just as they can an entire property). Travelers will see spare rooms listed in their search results alongside other properties (houses, apartments, villas, condos, etc.) available in the area they're looking at."

According to HomeAway CEO Brian Sharples last week in their earnings call, "It seems like TripAdvisor has changed their strategy several times in the past few years. They appeared to be trying to move much more towards an Airbnb-type model."

While TripAdvisor is chasing Airbnb's shared space accommodations model, Airbnb is working to establish relationships with professional vacation rental managers via integrations with LiveRez, BookingPal, LeisureLink, Barefoot and others.

What industry observers find baffling is that TripAdvisor already had a solid base with the professional suppliers that Airbnb is seeking. Yet TAVR is dismissing this competitive advantage with attempts to chase after Airbnb's clientele.

Part 1: TripAdvisor Issues: What's going on with TripAdvisor?

Part 2: TripAdvisor Issues: More support issues, rate parity, discriminatory policies, and the negative impact for vacation rental managers

Part 4: Response from TripAdvisor to issues and vacation rental managers unite to address concerns

Click here to get a pdf of the combined series of TripAdvisor Issues articles

>>Letter from Property Managers to TripAdvisor CEO Outlining the Issues with Vacation Rentals

By Amy Hinote

<!-comments-button-->