A Look Under the Hood at Kokopelli Property Management
This is part 2 in the Under the Hood Series in which we interviewed executives from seven on-the-grow vacation rental management companies to discuss everything from growth strategies to company culture, technology and marketing to future predictions for the industry. 
Part 1: A Look Under the Hood at Vacation Rental Pros
Part 3: A Look Under the Hood at Elliott Beach Rentals
 Part 4: A Look Under the Hood at Winter Park Lodging Company
Charles Goodman, CEO of Kokopelli Property Management, has been in the real estate business as an owner, investor, and property manager since 1976, when he acquired a 5-unit apartment complex in Albuquerque, NM. Operating out of a garage with only a handful of properties, he began managing more rentals and soon launched Residential Property Management in 1996.
Goodman recognized that, through economies of scale, the business of property management could be highly profitable. With the help of his wife and two sons, Goodman grew the company and re-branded it as Kokopelli Property Management. Today the company manages 600+ rentals.
Acquisition and Consolidation
Kokopelli entered the vacation rental space in 2003, when they acquired a company which had a small inventory of short-term rentals. By 2013 the company had acquired 11 other companies and currently manages 220 vacation rentals, along with 500 long-term rentals and 60 commercial spaces.
"When we acquire a company, we typically don't absorb their employees," says Ryan Goodman, CMO. "They are less likely to adhere to our standards and procedures. We absorb the work load, closely analyze performance, decide if we need to hire, and hire fresh. There have been a few exceptions when we have absorbed employees if they have some important relationships we feel strongly we would lose without their being on board."
Looking ahead to acquisition trends, "Consolidation on the online side and listing side has happened. Consolidation on the service side is coming," said Goodman. "I think what is coming next is the franchise model. By establishing a national brand, you would get all accounting, marketing, sales, best practices, increased purchasing power and branding power."
We asked Goodman if Kokopelli was still looking to acquire more vacation rental management companies. He responded, "You can't acquire something if the seller isn't ready to sell. Many vacation rental managers are in it to retire and will consider selling at that point. However, it may be too late."
Synergy Between Long-term and Short-term Rental Management
Kokopelli found there was substantial synergy between the processes involved in long and short term rental management. "On the vacation rental side, the ratio of employees to properties managed is about 1:10, while the ratio for long-term residential and commercial properties is closer to 1:100, and one commercial contract can produce ten times the gross revenue from a vacation rental," said Goodman. "Most vacation rental management companies are highly engaged in real estate sales and short-term rentals. We found that it was more profitable to exit sales and focus on property management, both long-term and short-term. This strategy allowed for more synergy in our processes and services and resulted in an explosion of referrals from realtors, as we were no longer in competition with them."
Goodman adds, "We created an assembly line approach in order to empower our employees and provide the best owner experience. That's how we've managed to be so successful." Now Ryan Goodman acts as CEO over vacation rentals, while his brother heads up commercial and long-term rentals.
Open Book Management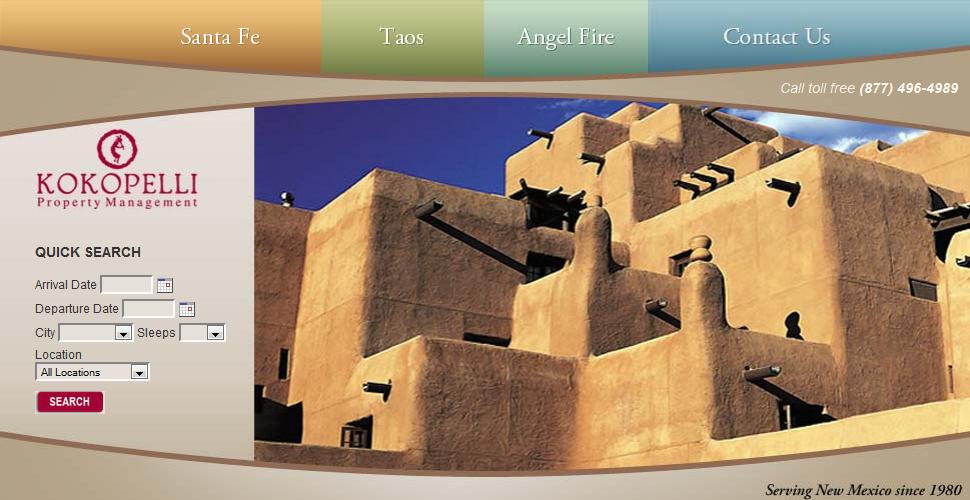 Jack Stack's The Great Game of Business introduced business owners to the concept of Open-book Management as a tool in getting employees engaged in the success of your business by sharing financial and decision-making duties among all employees.
Goodman adopted this approach with his employees at Kokopelli. "We have decided to open our books to our employees. In giving them manageable, simplified job expectations, we have found if they aren't looking at a budget or P&L, it is hard to expect them to make the best decision. They also know if they want to ask for a raise, they need to demonstrate how their contribution directly affects the bottom line."
Bringing It In-house
We have an in-house housekeeping department and an in-house service/maintenance department.
"In Santa Fe, we call it the 'land of mañana' …or we'll get to it tomorrow," said Goodman. "Finding prompt, quality service was a challenge so in order to provide the kind of quality services we needed, we had to bring these services in-house."
Goodman adds, "We initially ran these at a loss until we built them up. Now we help finance these departments with ancillary services, such as preventative maintenance inspections and freshen-up cleaning for realtors' showings and open houses. We also market our housekeeping services to our long-term commercial and long-term renters and to VRBO's. In the short-term rental industry, it doesn't matter if you rent by owner or are professionally managed, you need housekeeping and maintenance, so we offer these services to VRBO's, as well."
"We have found different revenue streams to support the departments we needed to ensure the quality of our service," said Goodman.
Technology Should Add to the Bottom Line
When looking at technology, Kokopelli is laser focused on their return on investment (ROI).
Goodman emphasizes, "We are careful to analyze ROI with the technology we utilize. Everything we spend eats into our margins. We have to ask, 'What is it adding to our margins?' For example, we funded our Glad to Have You App as a Santa Fe Tourism App and sold advertising on it. It's now a profit center with 100 strategic partners in Santa Fe, NM."
More Owners = More Profits
Kokopelli has a proactive view toward owner acquisition and owner retention. "We chose to grow by acquisition, but we still have to get creative with our marketing to owners," said Goodman. "Our relationships with our owners dictate our profitability. Most vacation rental managers are competing for guests. We are competing for owners."
"For example, we sent out a four piece direct mail campaign to 600 contacts in Angel Fire, NM," said Goodman. "It cost us $2,000, and we got 15 contracts from it. At the end of 2013, when all rental proceeds from those contracts were calculated, we had a 3,000% return on that investment."
He adds, "In our market, we don't do a lot of targeting based on property type. We all know that a 5 bedroom house yields more revenue than a 2 bedroom condo, but not if the owner of the 5 bedroom house is calling every day and upsetting the system. We weed out in the sales cycle, not in the marketing campaign."
Like Steve Milo, founder and Managing Director at Vacation Rental Pros Property Management (who also manages over 600 rentals), Ryan Goodman says their owners have his cell phone number, and he has implemented a proactive strategy in communicating with owners. "No matter how much we've grown, we have prioritized the relationship with the homeowner."
Goodman generates an arrival report every week to see which owners are coming into town; he attempts to schedule face-to-face time with them. "Why try to chase them down when you can proactively get in front of them while they're in town?" said Goodman. "I have a big face with a big smile and that doesn't come through in an email or on the phone. I want them to know they are taken care of."
Many property managers struggle with owners attempting to market their own properties. Kokopelli chooses to work with owners who want to self-market. "I am not a property marketer, I am a property manager. If I have an owner who thinks he can do a better job marketing his property, I let him do it."
Advice for Vacation Rental Managers
For vacation rental managers looking to sell their companies Goodman advises, "Get your books in order. Eliminate any expense which isn't directly impacting your bottom line. You will need 12-18 months of good books. Make sure you don't have an area within your company which is losing money."

Goodman also recommends getting involved in organizations like the VRMA. "Pick two or three associations which offer education. Network and get involved. Participating can be expensive and time-consuming, so don't pick too many, but the networking and education really helps you succeed."

By Amy Hinote

Related Articles:

Part 1: A Look Under the Hood at Vacation Rental Pros

<!-comments-button-->