This is part 4 in the Under the Hood Series in which we interviewed executives from seven on-the-grow vacation rental management companies to discuss everything from growth strategies to company culture, technology and marketing to future predictions for the industry. 
Part 1: A Look Under the Hood at Vacation Rental Pros
Part 2: A Look Under the Hood at Kokopelli Property Management
Part 3: A Look Under the Hood at Elliott Beach Rentals
Sarah Bradford had no experience with vacation rentals when she and husband Chris purchased their Winter Park, CO condo. At the time Bradford worked as a high level product management VP with eCollege, an online education software company; Chris owned and managed restaurants in the Denver area.
Bradford searched high and low for a property manager to market, book and maintain their rental property. Finally she began marketing and managing the property herself and was soon inundated by requests from a network of friends to help manage their Winter Park properties.
By the time Bradford added 25 homes to her inventory, she and Chris decided to take the leap and make property management their full time jobs. Within a 3-week period in 2007, they sold their Denver residence and bought a home in Winter Park. Sarah quit her job in Denver and Winter Park Lodging Company was born…just prior to another birth, the arrival of twins in the Bradford home. Through smart leveraging of technology and bold, beyond-the-box thinking, the company grew. Only six years later, Winter Park Lodging Company now manages 140 homes.
Company Culture
The friendly company vibe at Winter Park Lodging Company is infectious. It begins and ends with Sarah Bradford herself.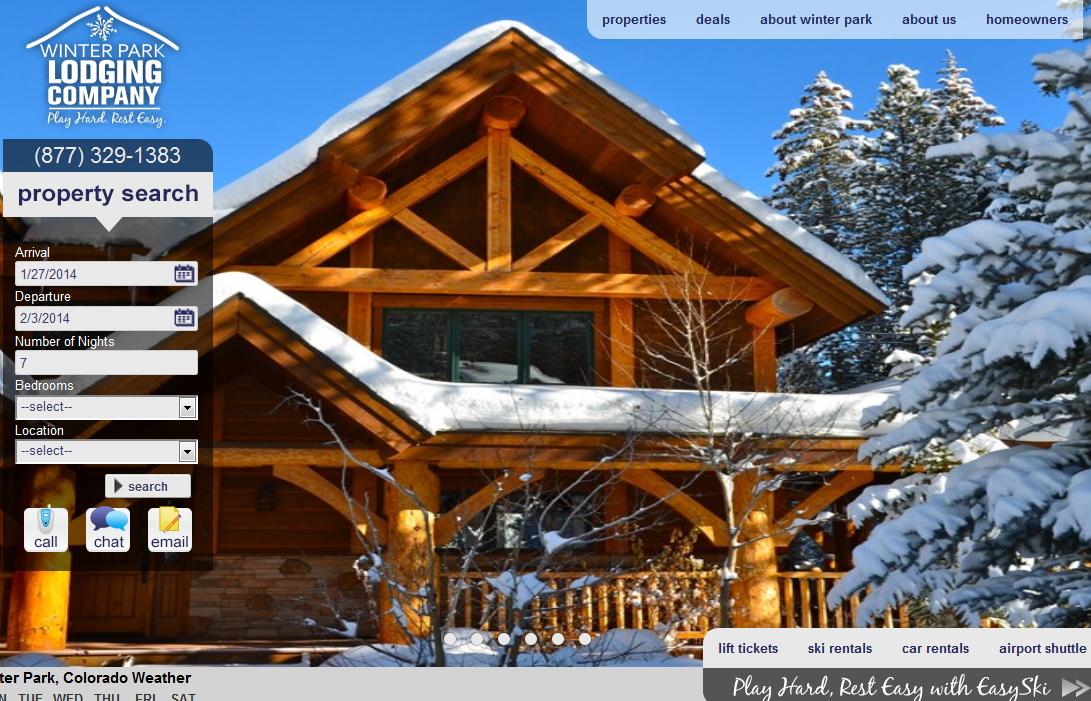 "We all work above and beyond to make our properties awesome, and we're passionate about creating a great vacation for our customers," says Bradford. "When we began we didn't think about 'company culture'. We just knew we wanted it to be fun while working hard. Then I read Tony Hsieh's (CEO, Zappos) Delivering Happiness, which focuses on making company culture a top priority and helping employees grow personally and professionally."
Bradford advises, "Formalize your culture and don't make it cliché. Come up with your own values and include your employees in the process. I learned – largely through networking with other managers in VRMA – when new people come on board I need to be the company cheerleader. Now I spend one-on-one time with each new employee and tell them about our growth, our values, and our goals."
"I also make a conscious and consistent effort to create fun. I bring chocolate, design t-shirts, plan off-site team building activities. If you don't stay on top of it, one negative employee can bring the whole culture down and make it seem cool to have a bad attitude," Bradford adds.
Owner Acquisition and Retention
Just as with Amy Gaster's Tybee Vacation Rentals, the standards for properties accepted by Winter Park Lodging Company have increased. "In the beginning, we said yes to almost any property that wasn't completely outdated. Now we make intentional choices: Is the company the right fit for the property owner? Does the property fit what we want in our inventory? We do not want to accept a property, then place ourselves or the owner in a position of our having signed a property that is not up to par with others in our program."
Winter Park Lodging Company now has an onboarding process that includes a long list of interview questions for each property owner. "We're almost psychological about it," says Bradford. "If they're coming from another management company we ask what they didn't like about the company. We also identify any hot button issues and pay attention to them. When we prepare the property, we triple check to make sure those issues have been addressed. And, we now say 'no' more often than 'yes' to owners inquiring about being on our program."
When it comes to owner retention strategy, Winter Park Lodging Company takes a highly personalized approach. "We are always selling to our owners," says Bradford. "We're proactive with our owners. We send e-newsletters to keep them informed. We send them revenue, rate, and occupancy updates every six months compared to the year before. We schedule regular phone calls with them. We give them free lift tickets and passes when we can. Sometimes, we even babysit their kids!"
Marketing and Technology
Innovation has been a cornerstone for Winter Park Lodging Company. "We are always innovating. We add new technology all the time. We recently adopted PointCentral for keyless locks and we launched the Glad to Have You GMS this fall," says Bradford.
We questioned Bradford regarding technology platforms a growing vacation rental management company cannot live without in 2014. Her must-have technology recs:
1. Vacation Rental Management Software.
2. NAVIS Narrowcast. "It's like adding a mentor and a business partner all in one. It completely changed our sales culture."
3. Phone and internet systems that work well ALL the time.
4. VRBO. "Almost half of our inquiries come from VRBO.com."
5. Google AdWords.
6. A functional, user-friendly rental website with online booking.
In addition, Winter Park Lodging Company is expanding their database and placing strong emphasis on targeted email campaigns and automated messaging. According to Bradford, "We are seeing incredible results with segmented email messaging."
Advice to New Property Managers
Our next question: What advice do you have for new and/or growing vacation rental management companies? With insight forged from experience and clear understanding, Sarah answered:

1. Think outside the box.
"I think outside the box primarily because I never knew what was in the box!" jokes Bradford. "One example: Historically, tour operators have been responsible for a large percentage of vacation rental reservations in Colorado. We questioned the norm and were highly successful with direct-to-consumer online bookings."

2. Be a homeowner in your own program.
"It is extremely beneficial to own one or two properties in your rental program. When you're a homeowner in your own program, you're much more empathetic and in tune with the needs and expectations of the other homeowners in your program."

3. When you travel, stay in vacation rentals.
"Whenever possible, choose vacation rentals as a personal lodging option. You can learn so much from experiencing firsthand the way other companies do business."

4. Have no fear.
"One thing that contributed to our success is that I wasn't afraid. You cannot over analyze every decision you make. You are going to make mistakes, but learn to trust yourself."

5. Get more.
"When you can't take on more properties, take on more properties. When we jumped to 50 properties, I never dreamed we would be able to provide occupancy for over 140 homes. You have to trust your business."

By Amy Hinote

Related Articles:

Part 1: A Look Under the Hood at Vacation Rental Pros

Part 2: A Look Under the Hood at Kokopelli Property Management

<!-comments-button-->