Founded in 2008, Taylor-Made Deep Creek Vacations and Sales is one of the top vacation rental management companies in the Deep Creek Lake area in Western Maryland. Owned and operated by Jodi and Joe Refosco and Chad Taylor, Taylor-Made manages over 225 vacation homes in a destination known for having four seasons of traffic and high-touch property management.
The Beginning
It is hard to talk about Taylor-Made Deep Creek Vacations and Sales without reflecting on how they got started. First, the story is just too good not to tell –and second, the secret ingredients that make Taylor-Made so successful are rooted in the foundation of the owners' growth in the vacation rental industry.
For years Railey Mountain Lake Vacations was the largest vacation rental company in the Deep Creek Lake region in Western Maryland.  The company was owned and operated through a partnership between Nancy Railey and Zack and Linda Taylor. The Taylors had a passion for the vacation rental industry which was evidenced by their relationships in the community and with their homeowners, Zack's volunteer time serving as vice president of the Vacation Rental Managers Association (VRMA), and their children's participation in the family business.
Zack and Linda's children, Chad, Karie and Jodi along with Jodi's husband Joe all worked for Railey.
Jodi Taylor Refosco acted as GM of Property Services, and her husband Joe Refosco served as head of laundry, linens, hot tubs and pools. Their son Chad Taylor worked with Railey as their network administration and IT guru, and their daughter Karie worked as Director of Marketing.  Zack, Linda, Karie, Chad, Jodi and Joe were using their individual talents in the best way they could to grow the business and grow the industry.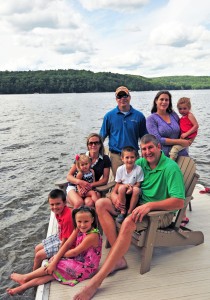 However, like many business arrangements, the partnership between Nancy Railey and Zack and Linda Taylor dissolved, leaving Jodi (eight and a half months pregnant), Joe, Chad and Karie with the difficult decision of how to move forward with their lives and careers.
Jodi, Chad and Karie had essentially grown up in the vacation rental industry. How could they not love it with enthusiastic industry veterans Zack and Linda Taylor as parents? And hospitality guru Joe Refosco, whose father was the popular high school principal and who had owned and managed several local restaurants before jumping into the family business, was deeply rooted in the community.
Karie, with her marketing acumen –a skill which was in high demand –started her own direct mail and promotional company while Jodi, Joe and Chad considered the possibilities.
They all wanted to continue to work in the vacation rental industry and stay in the area so an obvious viable alternative was to start a company of their own.
"I was 8 1/2 months pregnant and had been in the vacation rental industry since I was 18. I loved the area and my stepson lived here," said Jodi Refosco, co-owner of Taylor-Made. "It was a no-brainer. I wanted to stay and do something I loved in an area I loved with both my brother and husband."
The more they thought about it, the more feasible the idea seemed.
However, parents Zack and Linda would no longer be able to help in their venture in any way due to stringent non-compete agreements resulting from the dissolution of the partnership with Railey. This would mean that Mom and Dad would have to watch their children's triumphs and challenges without weighing in and without helping financially.
While opening the new business without a parental safety net was scary, Joe, Chad and Jodi knew they had the skills, relationships and work ethic to succeed.  "Between the three of us, in addition to knowing we could rely on Karie's marketing talent, we had every skill set and expertise needed to start and run a vacation rental company," said Jodi.
They also relied on advice from mentors like Doug Brindley of Brindley Beach Vacations. "I sat in Doug's house in the Outer Banks with Joe and Chad – 8 1/2 months pregnant -and decided that not only will we start a company, we were going to name it after the family, do a play on words, and roll with it like we owned it!" said Jodi.
They launched their vacation rental company from their basement in 2008, naming it Taylor-Made Deep Creek Vacations to honor their family's investment in the community and in the vacation rental business.
"Holy cow! We were jumping blind and hoping to God we landed with both feet!" said Jodi. "Not only did we land with both feet, we started off with rocket fire. And it has not slowed down since."
Hard work and relevant skills
In the first couple of years, Jodi, Joe and Chad all worked two jobs to support their families and get the business off the ground. With a new baby, fast growth and not enough time in the day, the first months were challenging, but the three owners never wavered in their belief that they would be successful.
"Starting a business isn't the same as running a business," said Jodi. "Developing the contracts was the toughest for me, along with having to wear so many hats to cover all of the bases. We started by identifying how we wanted to do business –that we wanted to focus on the owner relationship by decreasing maintenance costs and increasing the number of bookings."
"When we started our company, through our relationships in the VRMA, we had a big help from other companies in the industry that helped us since our parents could not help, nor advise, nor consult. So others stepped up in their place, including Doug Brindley, Alex Risser of Outer Beaches Realty and Linda Thurston of Finger Lakes Premier," said Jodi. "Doug told us, 'Walk like you've got a lot of money. Show people that you are confident and know this business.' He showed us that even though we were new at owning a vacation rental business, we weren't new to the vacation rental business."
Fast growth
The combination of the three owners' skill sets complemented perfectly to contribute to Taylor-Made's fast growth. "I'm the spender, Chad is the budgeter and Joe provides the service component and brings out the local aspect of the company," said Jodi.
With years of in-market experience, Jodi, Joe and Chad had a competitive advantage in that they already knew who they wanted to recruit and hire in different stages of their growth, and they even had a "wish list" of employees they wanted to add to their team.
"In a small community, it is all about relationships," said Jodi. "We didn't want employees who were only going to be there a year. For us, it is not worth it to train. We don't mass hire, and we work hard to provide year-round work to keep our people employed and decrease turnover. "
Taylor-Made moved into their first offices in May of 2008 and in a few years found that they were outgrowing their facilities. A developer they knew had built a gorgeous spec house in a prime location on the main highway which also included a design showroom in the back, and he was looking to lease the property.
"We were not planning to move into such a prime location until we were a little bigger, but it was something we couldn't refuse," said Joe. "The rent on this location was less than what we were currently paying, so it was a no-brainer for us. The only problem was that we had five days to get in, repurpose it for our needs and get open for Memorial Day weekend. It was tough, but we did it."
In-house laundry
Taylor-Made converted part of the showroom facilities into an in-house laundry facility.
"Joe had been the one to set up Railey's laundry facility, so he knew what to expect," said Jodi. "We knew it would be beneficial at about 150 homes, and we talked with a few other companies to come up with that number. When we moved into the new building we had 125 homes in our inventory. It was a little early, but we had the facilities so we brought it in-house and would never turn back."
Jodi added, "Two things we learned from our past experience: 1) Do not buy used equipment, and 2) Always plan on growing."
Owner relationships are number one
What sets Taylor-Made apart is their focus on the homeowner, and Jodi handles all of the homeowner recruiting, sales and negotiations personally.
"Homeowners want to be able to talk to the owner of the company personally," said Jodi. "When we started we knew we were going to run an owner-focused vacation rental company. We decided to prioritize personalization and communication and decided not to nickel and dime our owners. We train our staff to care about the homes as if they were their own, be detailed with their inspections and communicate with the homeowners promptly on issues and frequently."
Jodi added, "The other piece I can toss in is myself, my brother, and my husband. Our owners know they can always speak with the owner of the company and none of our competitors have that."
The Taylor-Made team also provides unique marketing tools for homeowners. "This business is all about relationships, and that includes personalized relationships with guests," said Jodi.
Taylor-made created business cards "taylored" to the homeowners with a photo of the home, the owner's name and Taylor-Made's contact information. They also offered personalized Christmas cards mailed to the property's past guests thanking them for staying in their home.
Working with family
While working closely with family can have its challenges, the Taylor/Refosco clan does a remarkably good job at staying focused. "I love working with my brother and husband," said Jodi. "The biggest thing is that we respect one another. We do argue, which makes our company great. We come at things from different angles, and then we come down to a mutually agreed upon solution. With three of us, there is always a deciding vote."
Jodi added, "I was also very lucky to marry a man who had the same work ethic that my family does."
Marketing and technology
"Technology is a tool that helps make you successful, but it isn't the reason you are successful," said Jodi. "Our keyless locks, for example, are great for security, automatic check-ins and for decreasing costs due to lock-outs. Before, we were responding to at least two lock-outs per week."
"The growth that Taylor-Made Deep Creek Vacations & Sales has achieved in our market and industry is attributed to our incredible staff," said Chad Taylor. "Our jobs as owners, is to give all the tools available to help them succeed.  To succeed, Taylor-Made Deep Creek Vacations & Sales encourages change and aggressively seeks out new technology."
With marketing initiatives, Taylor-Made is diversifying their efforts in 2014/2015. "When we started the company we did all distribution, but now we are scaling back and looking at what is working, focusing our money there and diversifying our marketing efforts," said Jodi.
Chad and Jodi's sister Karie Taylor is still very hands-on in the marketing arena and heads up all of their print and promotional marketing efforts.
Company Culture
"The 'A-team' – that is exactly how I would describe our team," said Jodi. "We all know and understand the different spokes of the wheel, we respect one another, and we even cross train in other departments to help out when needed."
"We do soup cook-offs, wiffle ball and corn hole tournaments, throw a nice Christmas party, and more. We also believe in investing in our staff and taking them to conferences and having them involved in webinars so they can understand the whole industry and vacation rental trends."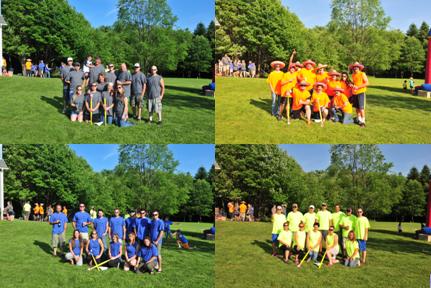 "We don't ask our employees to do anything we don't do or haven't done ourselves," said Joe. "As owners we help out with making beds, cleaning houses, inspecting homes, making reservations, whatever is needed to help keep our processes to flow smoothly and our staff knows no job is too big or too small for even the owners to take on."
Giving back
Joe and Jodi both volunteer their time in the vacation rental industry. Joe serves as President of the Vacation Rental Housekeeping Professionals and Jodi –like her dad did before her –serves on the Board of Directors for the VRMA.
"Since I received endless help from industry leaders when I needed it the most, I want to give back to others and help them," said Jodi. "I have worked every job imaginable from top to bottom, and I know the sweat and understand the sacrifice. I can at least give my knowledge and experience to others. I have helped numerous companies with ideas, policies, procedures, and so on. I believe in giving back and helping the next one that follows. I also believe no matter how long you are in this industry you will always learn something new as long as you listen. I want to listen, I want to learn, I want to be better – no, I want to be the best!"
Looking to the future
We asked Jodi and Joe about what they see coming for Taylor-Made in the next few years. "Taylor-Made Deep Creek Vacations sees a 25% growth annually as they fine tune the rental properties they manage. We see for this to increase in the next few years due to strong marketing campaigns and the use of cutting edge technology," said Jodi. "Trends change frequently – and we expect to see a huge change in the distribution sites and how we market on Google and other search engines. We have to be smart and knowledgeable and stay on top of the ever changing tides with these items, and we need to align ourselves with technology products that will help us get there."
Jodi added, "Deep Creek is only getting bigger, and Taylor-Made is growing not only as a rental company but as a real estate company. We want to strengthen our inventory with high revenue properties balanced with economical valued homes to be able to hit all niches, and we also want to streamline processes and make us more efficient. But in the end we want to be able to say we can service your home at whatever number just like we did when we had 25 homes."
Proud father
At the recent VRHP conference in Charleston, Zack Taylor –who now owns and operates WhipSmart with his other daughter Karie providing promotional materials for vacation rental companies – talked about how proud he was of his children's success and how difficult it was to remain hands-off.

"It was tough. Because of our agreements, we couldn't help in any way," said Zack. "We were determined to act with integrity and honor the papers we had signed."

Zack laughed, "However, it may have been a good thing! There were several times I thought they were making a decision that I wouldn't have made, but it turned out to be the right one! They were probably better off!"

By Amy Hinote

Related: Read about the road trip to Deep Creek.

More Under the Hood articles:

<!-comments-button-->